India hands over 250 pre-fabricated houses to Myanmar's Rakhine State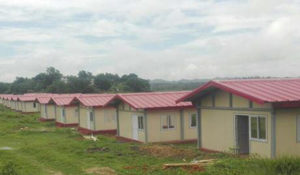 India handed over 250 pre-fabricated houses for use of displaced Muslim minorities, who are currently residing in Myanmar's Rakhine State. The houses delivered to Myanmar for displaced Rohingya returnees in Rakhine State are under India's 'Rakhine State Development Programme' (RSDP) for $25 Million for a period of 5 years.
Background
In December 2017 a memorandum of understanding (MoU) was signed between India and Myanmar on Rakhine State Development Programme (RSDP). $25 million RSDP focused on providing a sustainable solution in violence-torn Rakhine state for socio-economic development. It also aimed towards contributing to socio-economic development in northern Rakhine State.
Need: Due to rising violence against Rohingya Muslims in Myanmar, 1000s of them have entered India and Bangladesh to seek refuge.
Key Highlights
Saurabh Kumar, Ambassador of India to Myanmar, handed over documents related to 250 pre-fabricated houses for use of displaced returnees from Bangladesh to U Aung Kyaw Zan, Joint-chairman of Returnee Resettlement Work Committee and Minister for Electricity, Industry and Transportation of Rakhine State Government at a ceremony in Maung Daw, Rakhine State.
Out of 250 pre-fabricated houses put together by India in three villages in Northern Rakhine region 148 units are in Shwe Zar village, 60 in Kyein Chaung village and 42 in Nan Thar Taung.
These houses besides being rust free and water proof are designed to survive earthquakes and cyclonic storms.
Houses Made By: The project was undertaken by Indian companies- M/s Hindustan Prefab Limited as Project Management Consultant and M/s Enertech Limited as contractor.
Way Ahead: Construction of 250 houses was 1st initiative under RSDP has been successfully completed. Now another 22 proposals which include construction-related projects, capacity building projects, solar power related projects and agriculture mechanisation projects are presently under consideration.
Month: Current Affairs - July, 2019
Topics: India-Myanmar • Pre-Fabricated Houses • Rakhine State • Rakhine State Development Programme • Rohingya Muslim
Latest E-Books