India gives $10 million as grant-in-aid to Mozambique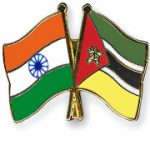 India has given $10 million as grant-in-aid to Mozambique as the country is facing severe food crisis due to two consecutive years of drought. The grant will help the drought-stricken country to immediately purchase wheat from the international market to ensure food security to its vulnerable sections of the population.
India and Mozambique enjoy warm and multi-faceted relations. It was the first country that the Prime Minister visited earlier this year in the mainland Africa. Mozambique can emerge as a 21st-century partner of India in Africa in not only food production but also energy and security-related interests. At present, Mozambique ranks second, after Mauritius, in India's foreign direct investment in Africa. It accounts for nearly 25% of India's net FDI into Africa. In addition, nearly 20,000 persons of Indian origin reside in Mozambique. The maritime security interests in the Indian Ocean make Mozambique important for India. Mozambique's strategic location in the Indian Ocean is another point of interest for India.  Mozambique is located on the Eastern side of African Continent with a coastline of around 2500 kilometres, dominating two key maritime choke points in the Indian Ocean. Indian navy already provides security assistance to Mozambique.
Topics: Africa • Continents • Index of Mozambique-related articles • Mozambique • Outline of Mozambique
Advertisement