Government notifies new Rs.200 notes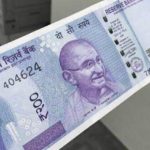 The Union Finance Ministry on the recommendations of the Central Board of Directors of the Reserve Bank of India (RBI) has notified currency notes of Rs.200. The new notes are likely to be in circulation shortly.
The new Rs.200 currency note was issued through an official gazette notification by the Finance Ministry's Department of Economic Affairs in exercise of powers conferred by sub-section (1) of section 24 of RBI Act, 1934.
Key Facts
The Rs.200 denomination banknotes in the Mahatma Gandhi (New) Series bear signature of Governor Dr. Urjit R. Patel. It has Motif of Sanchi Stupa on the reverse, depicting the country's cultural heritage. The base colour of the note is Bright Yellow.
The new Rs.200 currency note will carry advanced security features to prevent counterfeiting. It has gone through different levels of security and quality checks at the government's press unit at Hoshangabad (Madhya Pradesh).
It has also reported that RBI may not allow ATMs to dispense new Rs 200 notes. It may be circulated only through banks and not ATMs like Rs.50, Rs.20 and Rs.10 notes are circulated.
Comment
This is the fourth new note (after Rs.2000, Rs, 500 and Rs.50) to be announced since November 2016 aftermath of demonetisation when Rs. 1000 and Rs.500 old currency notes were demonetised. The introduction of the new Rs. 200 note is expected to ease the problems faced by people due to high-value Rs.2,000 notes and ease pressure on lower-denomination currency bills.
Printing of currency notes
The printing of currency notes in India is done either in printing units run by the government-run Security Printing and Minting Corporation of India Ltd (SPMCIL) or at printing presses in Salboni (West Bengal) and Mysore (Karnataka), managed by the RBI-owned Bharatiya Reserve Bank Note Mudran Private Ltd (BRBNMP).
Month: Current Affairs - August, 2017
Topics: Banking • Currency Notes • Department of Economic Affairs • Finance Ministry • National • RBI • Rs. 200 Notes
Advertisement