Government launches Digital Initiative for ease of exports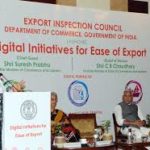 The Ministry of Commerce and Industry have launched digital initiatives of Export Inspection Council (EIC) for ease of export to boost to India's potential for agricultural and food export.
EIC is the official export certification body of Central Government. These initiatives were launched under flagship Digital India Initiative to keep pace with changing dynamics of the world.
Key Digital Initiatives
EIC has developed three portals to reduce transaction time and cost in transparent manner in order to continue vision for credible inspection and certification and strengthen confidence on Indian produce. These portals will provide opportunity for ease of export and also play important role in Go Green initiative by reducing paper usage and saving millions of trees.
EIC has integrated complete export food chain into this digital platform to provide fast, efficient and transparent services for ease of doing business in all sectors. It also has linked primary production, chain catch, aquaculture pond, dairy farms and apiaries.
Lab-one assessment portal: It is one of the portals launched. It will provide unified approach to all stakeholders like accreditation bodies, regulators and laboratories by bringing them together on common platform. It will help in simplifying procedures for granting joint certification and joint decisions thus reducing cost, time and multiplicity of assessment.
Export Alert Monitoring portal: It will monitor non-compliances raised by importing countries. It will enable monitoring of alerts and action taken by multiple organizations involved in initial certification in food safety and bio-security. It will also help in analysing trend, understanding trade barriers to reduce alerts and enhance export trade.
Export Inspection Council (EIC)
ECI was established by Central Government under Section 3 of Export (Quality Control and Inspection) Act, 1963. It was established to ensure sound development of export trade of India through Quality Control and Inspection and for matters connected thereof.
EIC is advisory body to Central Government. It is empowered to notify commodities which will be subject to quality control and inspection prior to export.  It establishes standards of quality for such notified commodities. It also specifies type of quality control and inspection to be applied to such commodities.
EIC also exercises technical and administrative control over the five Export Inspection Agencies (EIAs), one each at Channai, Delhi, Kochi, Kolkata and Mumbai established by Ministry of Commerce for purpose of implementing various measures and policies by it.
Month: Current Affairs - April, 2018
Topics: Agricultural and Food export • Digital Initiatives • Export Alert Monitoring portal • Export Inspection Council • exports • Lab-one assessment portal • National
Latest E-Books