Goldman Environmental Prize 2019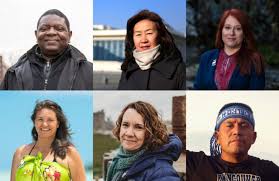 Six grassroots environmental activists from around the world received prestigious Goldman Environmental Prize 2019. They were honored at award ceremony held at San Francisco Opera House in California, US where Al Gore former US Vice President and environmental activist presented  keynote address.
Goldman Environmental Prize 2019 winners
Linda Garcia of US, rallied local communities to successfully prevent construction of North America's largest oil export terminal in Vancouver, Washington.
Ana Colovic Lesoska of North Macedonia, led seven-year campaign to cut off international funding for two large hydropower plants project from being built in Mavrovo National Park (country's largest national park).
Bayarjargal Agvaantseren of Mongolia, who led the fight to create 1.8 million-acre Tost Tosonbumba Nature Reserve (in South Gobi Desert) which is a critical habitat for vulnerable snow leopard. She persuaded Mongolian government to prohibit all mining within reserve.
Alfred Brownell of Liberia, an environmental activist and human rights lawyer who stopped destruction of Liberia's tropical forests by palm oil plantation developers.
Jacqueline Evans of the Cook Islands, led five year campaign to protect Islands' stunning marine biodiversity and for conservation and sustainable management of all of Cook Islands' ocean territory and creation of 15 marine protected areas.
Alberto Curamil of Chile, a jailed indigenous activist who organized his Mapuche community to protest construction of hydroelectric projects on sacred Cautín River in Chile.
Goldman Environmental Prize
It is an annual award established in 1989 by U.S. philanthropists Richard and Rhoda Goldman. It is also known as Green Nobel Prize and awards Cash prize of $200,000.
It is awarded by Goldman Environmental Foundation, headquartered in San Francisco, California. 
It honors grassroots environmentalists, who risk their lives to protect environment and empower those people who are most vulnerable to lose from industrial projects.
It honors grassroots environmental heroes from world's six inhabited continental regions of Europe, Asia, North America, Africa, Islands & Island Nations and South & Central America. Final winners are selected from nominations made by environmental organisations and others.
Generally winners are announced every April to coincide with Earth Day (22 April).
Indians Received Awards in Past
Prafulla Samantara: He had led historic 12-year legal battle that affirmed indigenous Dongria Kondh's land rights and protected Niyamgiri Hills from a massive, open-pit aluminum ore mine.
Medha Patkar: She is known for Narmada Bachao Andolan.
C. Mehta: He had single-handedly won numerous landmark judgments from supreme court, like introducing lead-free gasoline to India and reducing industrial pollution fouling the Ganges and eroding the Taj Mahal.
Rasheeda Bi and Champ Devi Shukla: They are Bhopal activists who ignited international campaign to seek justice for disaster survivors, demanded cleanup and compensation for affected individuals 1984 Union Carbide gas leak.
Ramesh Agrawal: He had organized villagers to demand RTI about industrial development projects and succeeded in shutting down one of largest proposed coal mines in Chhattisgarh.
Category: Awards, Persons & Places in News • Persons in News
Topics: Alberto Curamil • Alfred Brownell • Ana Colovic Lesoska • Awards • Bayarjargal Agvaantseren • Goldman Environmental Prize 2019 • Green Nobel Prize • Jacqueline Evans • Linda Garcia • Persons in News • Project Snow Leopard • United States
Latest E-Books