Global Real Estate Transparency Index: India ranks 35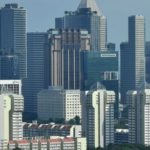 India was ranked 35th among 100 countries (countries) in recently released Global Real Estate Transparency Index (GRETI). The index was released by realty consultant JLL. India was ranked 36th in the index during the last bi-annual survey conducted in 2016 and 40th in 2014. Its real estate market is currently placed in the 'semi-transparent' zone.
Global Real Estate Transparency Index
GRETI ranks 100 markets based on combination of quantitative market data and survey results across on 186 individual measures divided into 14 topic areas grouped and weighted into six broad sub-indices:​​​​ performance measurement (weightage 28.5%), market fundamentals (16.5%), governance of listed vehicles (10%), regulatory and legal (25%), transaction process (15%) and sustainability (5%). The index scores markets on scale of 1 (being highest possible score) to 5 (lowest score). Depending on their overall performance, markets are assigned to one of five transparency tiers viz. highly transparent, transparent, semi-transparent, low transparency and opaque.
Key Highlights of 2018 GRETI
Top 10 countries are: United Kingdom (1st), Australia (2nd), United States (3rd), France (4th), Canada (5th), Netherlands (6th), New Zealand (7th), Germany (8th), Ireland (9th) and Sweden (10th).
Top 5 worst performers: Venezuela (100), Libya (99), Senegal (98), Mozambique (97) and Ivory Coast (96).
BRICS countries: South Africa was ranked at 21st position, followed by China (33rd), Brazil (37th) and Russia (38th).
South Asia: Sri Lanka (66th position), Pakistan (75th).
India related Facts: In this edition of index, India has moved up one place due to improvement in market fundamentals, policy reforms, and liberalisation of FDI. Besides, digitisation of property records and industry status accorded to affordable housing also has helped India to improve its rankings. India has emerged as one of the top ten countries to register maximum improvement in transparency in real estate over the last two years
Month: Current Affairs - June, 2018
Category: Reports & Indexes Current Affairs
Topics: Business • Economy • Global Real Estate Transparency Index • Housing • India • Real Estate sector
Advertisement