Genetically Modified mosquito trials launched to control dengue, chikungunya and zika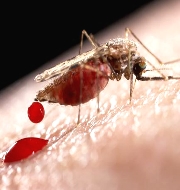 Outdoor caged trials of genetically modified mosquitoes waere launched in Dawalwadi, Badnapur in Jalna district of Maharashtra to demonstrate the efficiency this technique to suppress wild female mosquito populations that transmit dengue, chikungunya and Zika.
The trials are conducted by Oxitec and uses the Release of Insects carrying Dominant Lethal genes (RIDL) technology.
Key Facts
Oxitec's technology uses GM male Aedes aegypti mosquitoes that carry a dominant lethal gene. This gene is passed on to offspring after male GM mosquitoes mate with wild female mosquitoes.
The lethal gene in the offspring kills the larvae before they reach adulthood. Since male mosquitoes do not bite humans, the release of these GM mosquitoes will not increase the risk of dengue, chikungunya and Zika.
Oxitec's mosquitoes were first released in Brazil were they have successfully reduced the local populations of mosquitoes by more than 90%, whereas insecticides only affect 30%.
Advantages: This strategy is considered as most eco-friendly solution so far to control the spread of infectious diseases as it only targets a specific mosquito strain and does not produce any toxic compounds. It has 99% efficiency to kill offspring.
Background
Dengue is estimated to infect 5.8 million people in India every year, costing the country over $1 billion annually. In recent times, outbreaks of Chikungunya, a mosquito borne viral disease have been increasingly reported in India. Both viral diseases are transmitted by female Aedes aegypti mosquitoes. The World Health Organization (WHO) has fully supported the genetically engineered mosquitoes during last year's Zika outbreak.
Month: Current Affairs - January, 2017
Topics: Chikungunya • Dengue • Diseases • GM mosquitoes • Maharashtra • Public health • Science and Technology • Zika
Latest E-Books