Genesis of Project Tiger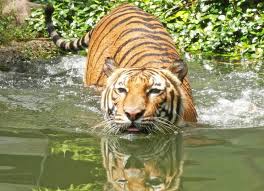 An estimate of the tiger population in India, at the turn of the century, placed the figure at 40,000. Subsequently, the first ever all India tiger census was conducted in 1972 which revealed the existence of only 1827 tigers. Various pressures in the later part of the last century led to the progressive decline of wilderness, resulting in the disturbance of viable tiger habitats. At the IUCN General Assembly meeting in Delhi, in 1969, serious concern was voiced about the threat to several species of wildlife and the shrinkage of wilderness in the country. In 1970, a national ban on tiger hunting was imposed and in 1972 the Wildlife Protection Act came into force. A 'Task Force' was then set up to formulate a project for tiger conservation with an ecological approach.
The project was launched in 1973, and various tiger reserves were created in the country on a 'core-buffer' strategy. The core areas were freed from all sorts of human activities and the buffer areas were subjected to 'conservation oriented land use'. Management plans were drawn up for each tiger reserve, based on the principles outlined below:
1. Elimination of all forms of human exploitation and biotic disturbance from the core area and rationalization of activities in the buffer zone.
2. Restricting the habitat management only to repair the damages done to the eco-system by human and other interferences, so as to facilitate recovery of the eco-system to its natural state.
3. Monitoring the faunal and floral changes over time and carrying out research about wildlife.
Initially, 9 tiger reserves were established in different States during the period 1973-74, by pooling the resources available with the Central and State Governments. These nine reserves covered an area of about 13,017sq.km-viz Manas (Assam), Palamau (Bihar), Similipal (Orissa), Corbett (U.P.), Kanha (M.P.), Melghat (Maharashtra), Bandipur (Karnataka), Ranthambhore (Rajasthan) and Sunderbans (West Bengal).
The project started as a 'Central Sector Scheme' with the full assistance of Central Government till 1979-80: later, it become a 'centrally Sponsored Scheme' from 1980-81, with equal sharing of expenditure between the center and the states.
The W.W.F. has given an assistance of US $ 1 million in the form of equipments, expertise and literature. The various States are also bearing the loss on account of giving up the forestry operations in the reserves.
Month: Current Affairs - September, 2009
Category: Government Schemes Current Affairs
Topics: Conservation-reliant species • Eastern Highlands moist deciduous forests • Endangered species • Environmental conservation • Felids • Melghat • National symbols of India • Project Tiger • Tiger • Tiger conservation • Tiger reserves of India • Tigers in India
Latest E-Books