GeM and CCI Sign MoU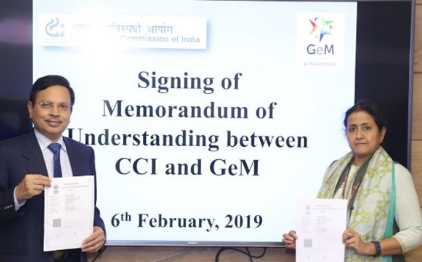 Government e Marketplace (GeM) and Competition Commission of India (CCI) have signed a Memorandum of Understanding to enable a fair and competitive environment in the e-Marketplace.
Combating Anti-competitive practices
Both CCI and GeM attach significant importance to the advanced analytical tools and processes for identification of malpractices like cartelization. Hence to pool their knowledge of the public procurement domain for detection of Anti-competitive practices GeM and CCI have signed a MoU.
Government e Marketplace (GeM)
GeM is a state-of-the-art national public procurement platform of Ministry of Commerce and Industries. GeM facilitates online procurement of common use Goods & Services required by various Government Departments / Organisations / PSUs.
GeM provides the tools of e-bidding, reverse e-auction and demand aggregation to facilitate the government users, achieve the best value for their money.
GeM aims to enhance transparency, efficiency and speed in public procurement and has used technology to remove entry barriers for bonafide sellers and has created a vibrant e-marketplace with a wide range of goods and services.
Competition Commission of India (CCI)
Competition Commission of India is a statutory body of the Government of India, responsible for enforcing the Competition Act, 2002 throughout the country and to prevent activities that have an adverse effect on competition. CCI consists of a Chairperson and 6 Members appointed by the Central Government.
Month: Current Affairs - February, 2019
Topics: Anti-competitive practices • CCI • Competition Act 2002 • Competition Commission of India • e-Marketplace • GeM • Government e-Marketplace • Ministry of Commerce and Industries
Latest E-Books