Ganesh Singh appointed Chariman of JPC for Land Acquisition Bill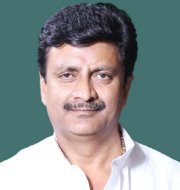 BJP Lok Sabha member Ganesh Singh was appointed as Chairman of the Joint Committee of Parliament (JCP) to examine provisions of the Land Acquisition Amendment Bill, 2015.
With this, Ganesh Singh replaces S S Ahluwalia who was appointed Minister of the State (MoS) for Parliamentary Affairs in the council of ministers reshuffle in July 2016.
It should be noted that Minister cannot be appointed as member of any Parliamentary Committee.
Ganesh Singh is a member of the 16th Lok Sabha. He represents the Satna constituency of Madhya Pradesh. He was also member of 13th and 14th Lok Sabha.
This is seventh extension of the term of the JCP on the Land Acquisition Amendment Bill, 2015 which must be approved by resolution in Parliament. The joint committee will comprise of 30-members- 20 members from Lok Sabha and 10 from the Rajya Sabha. It will examine provisions of Right to Fair Compensation and Transparency in Land Acquisition, Rehabilitation and Resettlement (Second Amendment) Bill, 2015.
Right to Fair Compensation and Transparency in Land Acquisition, Rehabilitation and Resettlement (Second Amendment) Bill, 2015
The Bill creates five special categories of land use. They are (i) defence (ii) affordable housing (iii) rural infrastructure (iv) industrial corridors and (v) infrastructure including PPPs where government owns the land.
Allows government to exempt five categories of projects from the requirements of (i) restrictions on acquisition of multi-cropped land, (ii) social impact assessment and (iii) consent for private projects and public private partnerships (PPPs) projects.
It removes clause of that makes head of a government department guilty for an offence by the department. It adds provision of prior sanction to prosecute a government employee.
Month: Current Affairs - July, 2016
Topics: Bills and Acts • Committees • Ganesh Singh • Parliament • Persons in News
Latest E-Books