First ASEAN-US Maritime Exercise to be held in South China Sea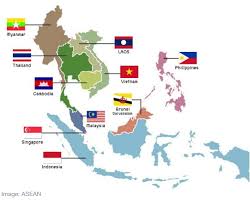 The First ever ASEAN-US Maritime exercise (AMUX) is planned to be held in and around the contentious South China Sea from September 2, 2019.
About the ASEAN-US Maritime exercise (AMUX)
The AMUX will a naval exercise which will be held for the first time in the waters of South-East Asia and in the South China Sea.
The AMUX which will be held for 5 days will witness the close cooperation of the US Navy and other navies of the ASEAN Bloc.
The US Navy is the world's largest navy and operates more aircraft and ships than all other nations.
The AMUX exercise will witness the participation of over eight warships, four aircrafts and over a thousand naval personnel from all navies combined.
These exercises will be led by the US and the Royal Thai Navy and will aim to cover all international waters in South East Asia. This includes the relatively peaceful Gulf of Thailand to the highly contended South China Sea.
The exercises will involve missions that be based around the boarding, search, and seizure of small vessels.
The motive of the AMUX
The AMUX exercise aims to build greater maritime security leveraging the internal strength and the cooperation already existing between the ASEAN countries and increase their collaboration in ensuring the freedom and openness of the Indo-Pacific waters.
About ASEAN
The Association of Southeast Asian Nations (ASEAN) is a regional body which aims to promote intergovernmental cooperation.
The ASEAN aims to improve economic, political, educational, military and socio-cultural integration and cooperation among its member's states.
The Current members of ASEAN are Brunei, Cambodia, Indonesia, Laos, Malaysia, Myanmar, Philippines, Singapore, Thailand and Vietnam.
The Secretariat of ASEAN is located at Jakarta, Indonesia.
Topics: ASEAN Summit • Asia • Association of Southeast Asian Nations • Geography of Asia • Organisations associated with the Association of Southeast Asian Nations • South China Sea • Southeast Asia
Latest E-Books