Fine particulates causing chronic illnesses: WHO Study
As per the study conducted by the World Health Organisation (WHO) air pollution caused by fine particulate matter (PM) is causing long-lasting disease chronic illnesses.
About a fifth of the 3 million people died worldwide because of exposure to fine PM2.5 which may have aggravated or been directly responsible for cardiovascular diseases and lung cancer.
How WHO study was conducted?
The findings were based on data derived from satellite measurements, ground station monitors for more than 3000 locations, both rural and urban and air transport models.
The study did not tool actual impact of air pollution as it does not include the separate impacts on health from other air pollutants such as nitrogen oxides (NOx) or ozone (O3).
Key outcomes of the WHO study?
Air pollution caused by fine particulate matter is the world's biggest environmental risk to health and it must be addressed on a priority basis as it continues to rise.
It could have killed at least 600,000 Indians in 2012 just behind China which witnessed an estimated 800,000 deaths due to air pollution.
The impact of fine PM2.5 is felt through a broad spectrum of acute and chronic illnesses that cause premature death. These include lung cancer, chronic obstructive pulmonary disease (COPD) and cardiovascular diseases.
PM pollution is an environmental health problem that affects people worldwide, but low- and middle-income countries disproportionately experience the burden.
While all regions of the world are affected by the PM air pollution but the populations in low-income cities are the most impacted.
Overall, 98% of cities in low- and middle income countries with more than 100,000 inhabitants do not meet 10µg/m3 WHO air quality standard of PM2.5. However, in high-income countries, this percentage decreases to 56%.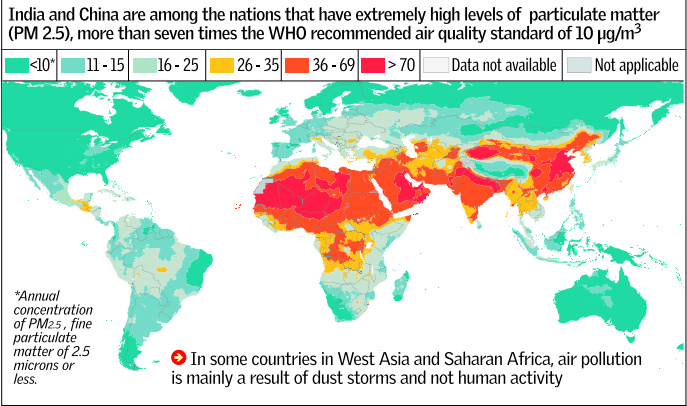 Image Source: The Hindu
Month: Current Affairs - September, 2016
Category: Reports & Indexes Current Affairs
Topics: Air pollution • Diseases • National • Public health • WHO
Latest E-Books