Factbox: Thoothukudi Sterlite Plant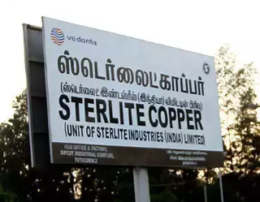 Thoothukudi Sterlite Plant is the largest copper smelter plant in India, in Thoothukudi, Tamil Nadu which is operated by Vedanta group. It started its operation in 1998 till 2018 when the plant was shut on the orders of Tamil Nadu government in May 2018. The Tamil Nadu government gave closure order after various violent protests from locals demanding the entire shutdown of the smelting plants which were operational.
Thoothukudi Sterlite Plant Controversy:
The Thoothukudi Sterlite plant has been long-opposed by the local residents for polluting their environment as well as causing a range of health problems and has been subject to several closures, on grounds of violating environmental norms.
The people of Thoothukudi has been opposing for long for the closure of the plant. They blame the plant for the pollution of their environment and for various health problems in the area.
The National Environmental Research Institute (NEERI) and the Tamil Nadu Pollution Control Board also found the evidence that the plant contaminated the groundwater, air and soil of the areas with its effluents and also for the violation of the standards of operation.
In 2010, the Madras High Court ordered a shutdown of the Sterlite plant for the violation of environmental regulations.
In April 2013, The Supreme Court struck down the Madras high court's order. It put a fine on Sterlite of Rs 100 crore for polluting the environment and for operation without the consent of TNPCB. The plant soon reopened after this favourable order.
But in March 2013, The Tamil Nadu Pollution Control Board re-ordered a closure of the plant on grounds of gas leakage, causing nausea and skin irritation among residents of the area.
There were renewed mass-protests in March and April 2018 against the company's plans of establishing a second smelting complex.  The locals demanded the entire shutdown of the smelting plants on the grounds of violating environmental regulations. The protests took a violent turn and many people got killed.
On 28th May 2018, the Tamil Nadu government ordered for the permanent closure of Sterlite plant in Thoothukudi.
The National Green Tribunal on 15th December 2018 had dismissed the state government's order of May 2018 to shut down the plant permanently. Recently, the Tamil Nadu government has announced to approach the Supreme Court challenging the National Green Tribunal (NGT)'s order allowing the reopening of Vedanta's Sterlite Copper plant in Thoothukudi.
Month: Current Affairs - December, 2018
Category: Environment Current Affairs
Topics: NGT • Sterlite • Tamil Nadu • Thoothukudi
Latest E-Books