Fact Box: India-China Border Dispute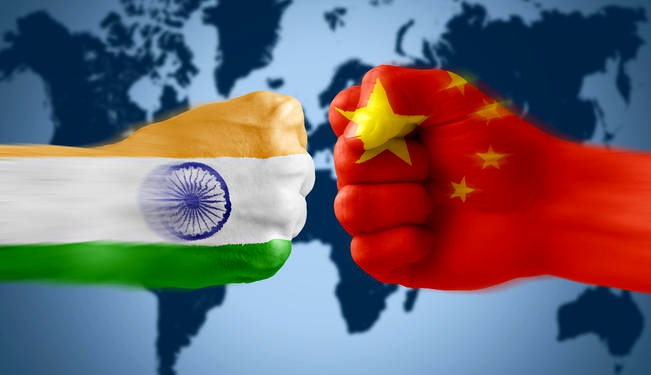 Indian and Chinese troops are facing off once again in Sikkim at Doko-La (or Donglong, as the Chinese call it), which lies at the tri-junction of India, China and Bhutan. There have been growing tensions between India and China. The current confrontation, however, shows signs of escalating. Both countries have upped the ante and deployed around 3,000 troops each in the tri-junction.
The Doklam area has huge strategic significance for both India and China. It close to proximity of sensitive Chicken's Neck, or the Siliguri Corridor, which is an extremely narrow stretch of land that connects the north-eastern region to the rest of India.  Here is background of India-China Border dispute
India-China Border Dispute
India shares total boundary of around 3,488 km with China (second largest after Bangladesh). The Sino-Indian border is generally divided into three sectors namely: Western sector, Middle sector, and Eastern sector. 5 states viz. Jammu & Kashmir, Himachal Pradesh, Uttarakhand, Sikkim and Arunachal Pradesh share border with China.
Western Sector
In the western sector, India shares about 2152 km long border with China. It is between Jammu and Kashmir and Xinjiang Province of China. In this sector, there is territorial dispute over Aksai Chin. Both countries went to war in 1962 over disputed territory of Aksai Chin. India claims it as part of Kashmir, while China claims it is part of Xinjiang.
The dispute over Aksai Chin can be traced back to the failure of the British Empire to clearly demarcate a legal border between China and its Indian colony. During the time of British rule in India, two borders between India and China were proposed Johnson's Line and McDonald Line.
The Johnson's line (proposed in 1865) shows Aksai Chin in Jammu and Kashmir i.e. under India's control whereas McDonald Line (proposed in 1893) places it under China's control. India considers Johnson Line as correct, rightful national border with China, while on the other hand, China considers the McDonald Line as the correct border with India.
At present, Line of Actual Control (LAC) is the line separating Indian areas of Jammu and Kashmir from Aksai Chin. It is concurrent with the Chinese Aksai Chin claim line.
Middle sector
In this sector, India shares about 625 km long boundary with China which runs along the watershed from Ladakh to Nepal. The states of Himachal Pradesh and Uttarakhand touch this border with Tibet (China) in this sector. Both sides do not have much disagreement over border in this area.
Eastern Sector
In this sector, India shares 1,140 km long boundary with China. It runs from the eastern limit of Bhutan to a point near the Talu Pass at the trijunction of Tibet, India and Myanmar. This boundary line is called McMahon Line. The boundary was established along the Himalayan crest of the northern watershed of the Brahmaputra, except where the Kemang, Subansiri, Dihang and Lohit rivers break through that watershed.
China considers the McMahon Line illegal and unacceptable claiming that Tibetans representatives who had sign the 1914 Convention held in Shimla which delineated the Mc Mahon line on the map were not having rights to do so.


Present mechanism to resolve border issue
India and China in 2003 had appointed Special Representatives to discuss the boundary question. In 2005, both sides had agreed on political parameters and guiding principles for a boundary settlement, will form the basis of the final settlement. So far 19 rounds of Special Representative Talks on the border have taken place (the latest was in April 2016).
Month: Current Affairs - July, 2017
Category: Defence Current Affairs
Topics: Doko-La • Explained • External Security • India China • India-China border dispute • International Relations • National • Sikkim
Latest E-Books