UN extends sanctions against South Sudan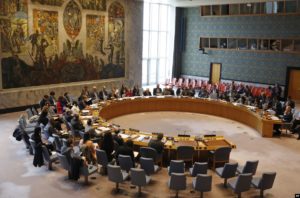 Despite resistance from Russia, China and African countries, United Nation Security Council (UNSC) has extended an arms embargo and sanctions on South Sudan for a year.
Key Highlights
Vote: A US-drafted resolution was adopted by UNSC after a vote of 10 in favour with five abstentions. As per the rule, in the 15-member council, a resolution presented for vote requires a minimum of nine votes for adoption.
Outcome: Post adoption of resolution an arms embargo is placed on South Sudan along with an assets freeze and global travel ban put on eight South Sudanese nationals for their role in fuelling the war. The measure adopted will renews until 31 May 2020.
About UNSC Sanction
Background: UN Security Council can take action to maintain or restore international peace and security under Chapter VII of United Nations (UN) Charter.
Objective: The UNSC places sanctions to constrain terrorism, support peaceful transitions, deter non-constitutional changes, protect human rights and promote non-proliferation.
UN Security Council's Sanctions Committees: the United Nations Charter's Article 29 sets out that UNSC may establish subsidiary bodies such as committees or working groups as and when needed for performing its functions. One of them is Sanctions Committees which comprises of 15 members of the Council whose mandate is to impose sanctions.
Month: Current Affairs - June, 2019
Topics: South Sudan • South Sudan Sanction • United Nation Security Council • United Nations Charter's Article 29 • UNSC Sanctions Committee • US-Drafted Resolution
Latest E-Books