Equator Prize 2019 won by Deccan Development Society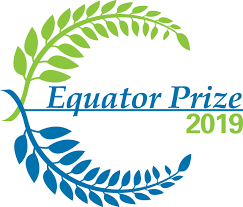 The Women Sangams (groups) of Deccan Development Society (DDS) were honoured with Equator Prize 2019 by United Nations Development Programme (UNDP) for their contribution to ecology and innovations in rainfed millet cultivation.
Key Highlights
The Equator Prize 2019 was awarded to six women farmer belonging to Deccan Development Society (DDS) sanghams. They became only Indian group to have won 2019 award.
Although women working with DDS sanghams are mostly non-literate, dalit, and under-privileged yet more than three decades of their work in farming sector following age-old practices is now being recognized globally.
Achievement: They were awarded in recognition of efforts of building their own seed banks and growing millets in predominantly rain-fed villages of Sangareddy district, Telangana. Their effort showcased an outstanding example of a local, nature-based solution to climate change and sustainable development.
To mark their achievement DDS felicitated women for their contribution to ecology and innovations in rainfed millet cultivation.
About Deccan Development Society
It is Indian agriculture based Non-Governmental Organisation (NGO) in Medak district in Telangana. It was founded in 1983 and since then works towards various crop improvement programs and activities helping local farmers.
Since decades DDS has been offering a global solution to climate change, a crisis being faced worldwide.
Significance: Women belonging to DDS have been working relentlessly for past three decades to protect environment by following their traditional methods and systems. This has helped in ensuring food security and achieving food sovereignty.
Their efforts have proved that gender and caste discrimination will not come in way of achieving self-reliance and autonomy. The women have ensured food security and have achieved food sovereignty
About Equator Prize
The award was established in 2002. Since its inception, out of a total 223 awards, only 9 awards have been bagged by India so far.
It is awarded biennially by Equator Initiative of UNDP in recognition of community efforts to reduce poverty via conservation and sustainable use of biodiversity. The winners are selected by independent Technical Advisory Committee of UN and are awarded US$10,000.
In 2019, United Nations (UN) received a total of 847 nominations from over 127 countries. Out of them, only 20 were given this prestigious award, including DDS Sangams women too.
Month: Current Affairs - June, 2019
Category: Awards, Persons & Places in News
Topics: Climate change • DDS Sangams • Equator Initiative • Equator Prize • Equator Prize 2019 • NGO • Non-governmental Organisation • Sangareddy district • Telangana • UNDP • United Nations • United Nations Development Programme • Women Sangams of Deccan Development Society
Latest E-Books