Elimination of Tuberculosis from India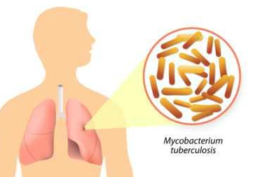 India accounts for about a quarter of the global TB burden. India has set the target to eliminate Tuberculosis in India by 2025. To evolve a strategy in this regard, India has put in place National Strategic Plan 2017 – 2025 which sets out the government plans of how the elimination of TB can be achieved.
What does the Elimination of a disease  stand for?

Elimination of a disease is defined by the World Health Organisation (WHO) as there should be less than 1 case of TB for a population of a million people.
Step Forwards in 2018
As a step towards eliminating TB, India has made following progress in 2018:
In 2018, 5, 36,752 TB patients have been notified from the private sector. There has been a 40% increase in TB notification from the private sector as compared to 2017.
44,517 (8%) TB patients were given anti-TB drugs from the programme.
As per State reports till 25.01.2019, 40% notified TB patients, 35% treatment supporters and 8% private practitioners have been paid incentives through DBT.
Elimination of Tuberculosis
The government has envisioned following strategic steps to eliminate TB by 2025:
A partnership with the private sector has been envisaged under Joint Effort for Elimination of Tuberculosis (JEET) for the elimination of TB by 2025, five years ahead of the global schedule.
To increase the reporting from the private sector, public-private support agency approach has been initiated.
Indian Medial Association has been roped in for large scale sensitization and advocacy with private practitioners with standardised digital material.
States have been supplied anti-TB drugs to provide for TB patients notified from private sector based on demand.achieve
States have been guided to keep programme provided anti-TB drugs at private practitioner's clinic or pharmacy
To ensure the TB patients are not deprived of DBT benefit flexibility to provide the benefit through the existing bank account of a blood relative has been given.
States have also been advised to facilitate opening of zero balance accounts for TB patients, if necessary, under the PradhanMantri Jan DhanYojana (PMJDY) and Indian Postal Bank.
The Minister of State for Health and Family Welfare, Shri Ashwini Kumar Choubey has stated in parliament that government is committed to achieve the target of TB elimination by 2025 and not considering any revision in targets.
Month: Current Affairs - February, 2019
Topics: Elimination of Tuberculosis • JEET • Joint Effort for Elimination of Tuberculosis • National Strategic Plan 2017 - 2025 • PradhanMantri Jan DhanYojana • TB • Tuberculosis
Latest E-Books