EAM to visit Sultanate of Oman on 24th December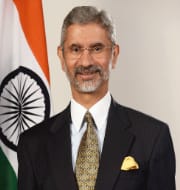 The External Affairs Minister(EAM) of India, Dr. S JaiShankar is completing his visit to Iran on the 23rd of December from where he will head towards the Sultanate of Oman on Tuesday, 24th December 2019. The Minister Responsible for Foreign Affairs of the Sultanate of Oman, Yousuf Bin Alawi bin Abdullah invited the Indian External Affairs Minister following his visit to India in July 2017.
Dr. S Jaishankar and his counterpart will discuss issues related to the mutual interest and in addition, will also be holding meetings with other ministers of the Sultanate of Oman. Agreement for cooperation in the field of Maritime Transport between the two countries will be signed during the visit.
In the capital city of Oman, Muscat, the EAM will also interact with the Indian Community during his visit. At present, more than 7lakh 80 thousand Indian citizens are living in the sultanate of Oman.
In 2018-19 Financial year, India-Oman bilateral trade was USD 5 billion, as India is currently the second-largest importer from Oman of crude oil.
Earlier in February 2018, the Prime Minister of India, Narendra Modi visited Oman, becoming the sixth Indian Prime Minister to visit Oman. The Prime Minister's visit has identified new areas of cooperation and has further consolidated the ties between the two countries.
Topics: Dr. S Jaishankar • External Affairs Minister(EAM) of India • Iran • Muscat • Narendra Modi • Oman • Prime Minister of India
Latest E-Books