Donald Trump: TIME Person of the Year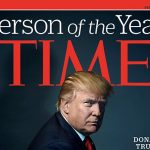 President-elect Donald Trump has been honoured with the title TIME Person of the Year for his unusual way of doing business and rewriting rules of politics and defying all expectations. Trump welcomed the move by the magazine as a very great honour.
As per Nancy Gibbs the managing editor of TIME, "When have we ever seen a single individual who has so defied expectations, broken the rules, violated norms, beaten not one but two political parties on the way to winning an election that he entered with 100-to-1 odds against him?"
The No.2 finalist was Hillary Clinton followed by "The Hackers" along with other finalists like the German Chancellor Angela Merkel and Russian President Vladimir Putin. TIME Magazine's "Person of the Year" is highly coveted and dates back 90 years to 1927 with editors of the magazine were considering the newsmakers of the year. It is an annual issue of the United States news magazine which features and profiles of a person, a group, an idea or even an object that has "for better or for worse" has done the most to influence events of the year. The title has significant influence on the events of the year.
Topics: American people of German descent • Angela Merkel • Awards • Climate change skepticism and denial • Donald Trump • Government • Politicians • Right-wing populism in the United States • Vladimir Putin
Latest E-Books