Dhanush artillery gun clears final test, ready for induction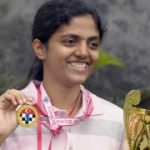 India's first indigenous, long-range artillery gun Dhanush has successfully passed its final test at Pokhran, Rajasthan. This paves its way for induction into Indian Army. Earlier the gun had passed tests under severe cold conditions in Sikkim and Leh and in hot and humid weather in Balasore, Odisha, Babina in Jhansi.
Indian Army has so far not inducted any new artillery guns since Bofors guns. It has placed an initial order for 114 Dhanush guns and is expected to order another 400 more.
Dhanush artillery gun
Dhanush is a 155mm x 45mm calibre artillery gun. It has been developed by Ordnance Factory Board (OFB), Kolkata based on requirements of Indian Army and manufactured by Jabalpur-based Gun Carriage Factory (GCF). It is upgraded version of Swedish 155-mm Bofors howitzers, which India procured in the mid-1980s, based on its original designs. So, it is also called desi Bofors.
It has strike range of 40 kilometres (11 km more than the imported Bofors guns) with accuracy and precision.Its 81% components are indigenously sourced and it will be scaled up to 90% by 2019. Each of this gun costs about Rs 14.50 crore while each shell costs Rs. 1 lakh. It provides greater fire power, depending on the type of ammunition used.
It also has night firing capability in direct fire mode. Its armament system comprises a barrel, muzzle brake, breech mechanism and recoil mechanism to fire 155 mm calibre ammunitions. It has several significant advance features, including an all-electric drive, high mobility, quick deployability, auxiliary power mode, advanced communication system and automated command and control system. It has six round magazine, instead of a standard three round one. It weighs slightly more than normal due to the larger chamber.
Month: Current Affairs - June, 2018
Category: Defence Current Affairs
Topics: Defence • Dhanush artillery gun • Indian Army • Make in India • Odisha
Advertisement