Delhi HC: United Nation not State under Article 12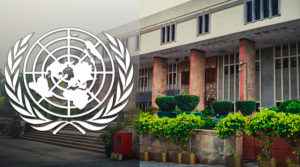 In a recent judgement the Delhi High court (HC) ruled that United Nations Organization (UNO) is not 'State' in terms of Article 12 of the Indian Constitution and thus it is not amenable to its jurisdiction under Article 226.
About The Case
Case: The Delhi HC judgment adjudicated the petition filed concerning immunity enjoyed by UNO under United Nations (Privileges and Immunities) Act, 1947.
Petitioner: The plea in case is filed by a former UNO employee who was found guilty of misconduct following the findings of Procurement Task Force. He was then convicted by a US Federal Court and sentenced to 8 years of imprisonment and 2 years of mandatory probation, was later released and deported to India in May 2014. The petition filed by him claims that due process was not followed in his case.
Course Followed:

In November 2018, the petitioner sought permission of Union Ministry of External Affairs (MEA) to initiate a legal action against UNO under section 86 of Civil Procedure Code, 1908. This section 86 of CPC provides that a foreign State may be sued in any Court once the consent of Central government is obtained.
The MEA then stated that consent of Union Government was not required to initiate legal suit against UNO as it was not foreign State rather only an International Organization.
MEA although stated that UNO and its officials enjoyed immunity under United Nations (Privileges and Immunities) Act, 1947. It also added that as per Section 2 of Article II of the Schedule of Act, 1947, UNO enjoys immunity from every kind of legal process except insofar as in any particular case it has clearly waived its immunity. The same became subject matter of petition filed before the Delhi High Court.
Article 12 of Constitution of India
As per it the 'States' in relation to Part III (Fundamental Rights) of Constitution includes Government and Parliament of India (Lok Sabha and Rajya Sabha), Government and Legislature of each of State (Vidhan Sabha and Vidhan Parishad), all local (or other) authorities within territory of India or under control of Union of India.
Article 226 of Constitution of India
It empowers the high courts of India to issue orders, directions or writs, which includes writs in nature of habeas corpus, prohibition, mandamus, certiorari, and quo warranto (or any of them) to any concerned person or authority, including the government (in appropriate cases).
Month: Current Affairs - May, 2019
Category: Legal & Constitution Current Affairs
Topics: Article 12 • Article 226 • Certiorari • Civil Procedure Code 1908 • CLAT • Constitution of India • Delhi High Court • Fundamental rights • Habeas corpus • Mandamus • Ministry of External Affairs • Part III • prohibition • Quo warranto • United Nations Organization • UNO
Latest E-Books