Delhi declared free of bird flu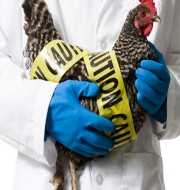 National Capital Territory (NCT) of Delhi was declared free from bird flu (H5N8 avian influenza) after consecutive samples collected at 15 days' intervals from the last positive results tested negative.
In October 2016, cases of mortality among the birds due to H5N8 avian influenza were reported in National Zoological Park, Delhi NCR.
About Avian influenza 
Avian influenza, commonly called bird flu is an infectious viral disease of birds caused by strains of the influenza virus that have evolved to be specially adapted to enter avian cells.
It is an infectious viral disease of birds and can sometimes spread to domestic poultry and cause large-scale outbreaks of serious disease. There are three main types of influenza: A, B, and C.
Influenza viruses are further classified by analyzing two proteins on surface of virus, hemagglutinin (H) and neuraminidase (N).
Most avian influenza viruses do not infect humans. There is no evidence that the disease can be spread to people through properly cooked food.
However A(H7N9) and A(H5N1) virus strains have caused serious infections in people. The infections in humans have been associated with direct or indirect contact with infected live or dead poultry.
Month: Current Affairs - January, 2017
Topics: Bird Flu • Delhi • Diseases • H5N8 • National • Public health
Latest E-Books