Current Affairs – March 7, 2021 [Today's News Headlines]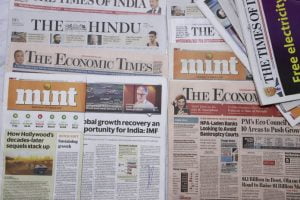 Here are Today's News Headlines by GK Today for March 7, 2021
India
PM Modi chairs Valedictory Session of Combined Commanders' Conference
Prime Minister Narendra Modi chaired the Valedictory Session of the Combined Commanders' Conference at the Statue of Unity in Kevadia, Gujarat on March 6, 2021. During the three-day conference, Defence Minister Rajnath Singh, the military commanders and senior officials from the Ministry of Defence participated in deliberations. Jawans and Junior Commissioned Officers also participated in the conference for the first time. The Combined Commanders' Conference, which is a premier brainstorming event of the military officials, took place after three years.
Remove PM Modi's photo from vaccine certificate in poll bound states: EC
The Election Commission has asked the health ministry to remove Prime Minister Narendra Modi's image and name on Covid-19 vaccination certificates in poll bound states. In a letter to the Union Health Ministry on March 5, 2021, EC reiterated its guidelines on the model code of conduct while asking for removal of Modi's image and name in vaccine certificates issued in West Bengal, Assam, Tamil Nadu, Kerala and Puducherry.
President inaugurates All India State Judicial Academies Directors' Retreat in MP
President Ram Nath Kovind inaugurated the 2-day All India State Judicial Academies Directors' Retreat at Jabalpur, Madhya Pradesh on March 6, 2021. Kovind said that the objective of the judicial system is not merely to resolve disputes, but also to uphold justice.
Uttarakhand: BRO restores connectivity to 13 border villages in Chamoli district
The Border Roads Organisation (BRO) has constructed a 200-feet bailey bridge on Joshimat-Malari road across the Rishiganga river, restoring connectivity to the 13 border villages in Uttarakhand's Chamoli district affected by the flash floods in February. The bridge is near Reini village of the district and it was opened for public use on March 4, 2021.
India's total supply under Vaccine Maitri initiative reaches 461.66 lakh doses
India's total vaccine supply under the Vaccine Maitri initiative has reached 461.66 lakh doses. 71.5 lakh doses have been delivered through grant and 288.4 lakh doses on commercial terms. In total, India has delivered vaccines to 47 countries and to UN healthcare workers as well.
40 scholars from 6 countries chosen for India Science, Research Fellowship 2021
Forty scholars from six countries have been recommended for the award of India Science and Research Fellowship 2021. This provides an opportunity to the researchers to use state of the art facilities available in Indian institutes and universities for carrying out their research. The government had launched India Science and Research Fellowship Programme for Afghanistan, Bangladesh, Bhutan, Maldives, Myanmar, Nepal, Sri Lanka and Thailand researchers. It has been implemented since 2015.
76th Annual Conference of Association of Physicians of India (API) held
Union Minister of State (Independent Charge) Development of North Eastern Region (DoNER), MoS PMO, Personnel, Public Grievances, Pensions, Atomic Energy and Space, Dr. Jitendra Singh addressed the 76th Annual Conference of Association of Physicians of India (API), which is being held virtually this year in the wake of the pandemic constraints. The theme of this year's API conference was "Engaging Minds: Empowering Medicine".
TechBharat 2021 organised by Laghu Udyog Bharati and IMS Foundation
Union Minister for Health & Family Welfare, Dr Harsh Vardhan addressed the inaugural session of TechBharat 2021, on March 6, 2021. Laghu Udyog Bharati and IMS Foundation have organized the 2nd edition of the conclave bringing together stakeholders from the HealthTech & Edutech sector on a virtual platform.
New research building 'Desikan Bhawan' inaugurated at ICMR-NJIL & OMD, Agra
Union Minister of Health and Family Welfare Dr. Harsh Vardhan inaugurated the new research building 'Desikan Bhawan' equipped with new COVID-19 diagnostic facility at ICMR-NJIL & OMD (National JALMA Institute for Leprosy & Other Mycobacterial Diseases), Agra in the presence of Director General ICMR & Secretary, Department of Health Research, Prof. Balram Bhargava.
Only NRI quota seats based on entrance exams for OCI cardholders: MHA
The Ministry of Home Affairs (MHA) has reiterated through a gazette notification that Overseas Citizens of India (OCI) cardholders can lay claim to "only NRI (Non-Resident Indian) quota seats" in educational institutions based on all-India entrance tests such as National Eligibility cum Entrance Test (NEET), Joint Entrance Examination (Mains), Joint Entrance Examination (Advanced) or other such all-India professional tests. The MHA also clarified that OCIs are not entitled to undertake any "missionary, mountaineering, journalism and tabligh activities" without prior permission of the Government of India.
Economy & Corporate
Sanitisers not medicament, to face 18% GST: Tax body
The Karnataka bench of the GST Authority for Advance Rulings (AAR) has held that hand sanitisers are not a medicament. As a result, these would be subject to a GST levy of 18%. Wipro Enterprises had approached the AAR to determine the appropriate classification of hand sanitisers and hence the GST rate. It submitted that the product which contained 95% ethyl alcohol and had obtained a drug licence should be classified under chapter heading 3004. This chapter covers medicaments having a therapeutic or prophylactic value.
World
Pakistan PM Imran Khan wins trust vote in National Assembly
Pakistan Prime Minister Imran Khan on March 6, 2021 won a trust vote in the National Assembly amid a boycott call by the Opposition parties, strengthening his government's legitimacy after an embarrassing defeat of the finance minister in the hotly-contested Senate elections. Prime Minister Khan secured 178 votes in the 342-member lower house of Parliament during a special session convened on the directives of President Arif Alvi. A total of 172 votes was needed for a simple majority.
Iraq: Pope Francis and Grand Ayatollah Ali al-Sistani meet in Najaf
Pope Francis and Iraq's top Shiite cleric delivered a powerful message of peaceful coexistence on March 6, 2021, urging Muslims in the war-weary Arab nation to embrace Iraq's long-beleaguered Christian minority during an historic meeting in the holy city of Najaf. Grand Ayatollah Ali al-Sistani said religious authorities have a role in protecting Iraq's Christians, and that they should live in peace and enjoy the same rights as other Iraqis.
NASA's Perseverance Mars rover travels 21 feet in first test drive
NASA's newest Mars rover hit the dusty red road, putting 21 feet on the odometer in its first test drive. The Perseverance rover ventured from its landing position on March 4, 2021, two weeks after landing on the red planet to seek signs of past life. The roundabout, back and forth drive lasted just 33 minutes. As soon as the system checks on Perseverance are complete, the rover will head for an ancient river delta to collect rocks for return to Earth a decade from now.
Sports
India beat England by an innings and 45 runs in 4th test at Ahmedabad
Team India (365) on March 6, 2021 roared into the final of the inaugural edition of the ICC World Test Championship (WTC) following an emphatic 3-1 series win over England (205, 135). Virat Kohli's men, who defeated England in the fourth and final Test by an innings and 25 runs at the Narendra Modi Stadium, will now face New Zealand in the WTC final slated to be played from June 18 to 22, with June 23 as the reserve day at the Lord's Stadium in London.
Month: Current Affairs - March, 2021
Category: Today's News Headlines
Topics: Current Affairs Headlines • Current Affairs: News Headlines • Headlines • Latest News Headlines • News Headlines • Top Headlines
Latest E-Books