Current Affairs – March 14, 2021 [Today's News Headlines]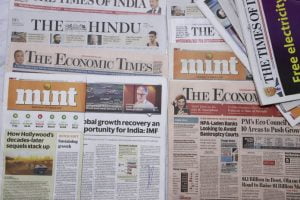 Here are Today's News Headlines by GK Today for March 14, 2021
India
Global Ayurveda Festival being organised virtually from March 12 to 19
The fourth edition of the Global Ayurveda Festival is being organised on the virtual platform from March 12 to 19, 2021. The festival will have live sessions including plenaries, symposiums, parallel sessions, paper presentations, virtual exhibition and virtual networking. Centre for Innovation in Science and Social Action (CISSA), in association with the Governmental and Non-Governmental bodies, is organizing this Global Ayurveda Festival.
ISRO launches sounding rocket RH-560 to study attitudinal variations
Indian Space Research Organisation (ISRO) launched the sounding rocket (RH-560) to study attitudinal variations in the neutral winds and plasma dynamics on March 12, 2021 at Satish Dhawan Space Centre (SDSC), Sriharikota Range (SHAR). Sounding rockets are one or two-stage solid propellant rockets used for probing the upper atmospheric regions and for space research. They also serve as easily affordable platforms to test or prove prototypes of new components or subsystems intended for use in launch vehicles and satellites.
Exhibitions inaugurated in 6 cities to commemorate 75 years of Independence
Information and Broadcasting Minister, Prakash Javadekar on March 13, 2021 inaugurated the exhibition to commemorate 75 years of India's Independence, Azadi Ka Amrit Mahotsav at six places – Jammu, Imphal, Patna, Bhubaneshwar, Pune and Bengaluru – virtually.
Campus of National Institute for Research in Environment Health opened in Bhopal
Union Minister for Health and Family Welfare Dr. Harsh Vardhan inaugurated multiple facilities at All India Institute of Medical Sciences (AIIMS), Bhopal in Madhya Pradesh on March 13, 2021. He also inaugurated the New Green Campus of National Institute for Research in Environment Health (NIREH) in Bhopal.
PM Modi talks to Sri Lankan President Gotabaya Rajapaksa on phone
Prime Minister Narendra Modi had a telephonic conversation with Sri Lankan President Gotabaya Rajapaksa on March 13, 2021. They reviewed topical developments and the ongoing cooperation between India and Sri Lanka in bilateral and multilateral forums. Modi reiterated the importance of Sri Lanka to India's Neighbourhood First policy.
Maths, Physics no longer must for engineering admissions: AICTE
Prospective engineering students will not have to mandatorily study maths and physics in Class 12, according to new norms released by the All India Council for Technical Education (AICTE) for 2021-22. According to the AICTE's approval process handbook for 2021-22, students only need to score 45% in any three subjects from a list of 14 in order to qualify. The diverse list includes physics, mathematics, chemistry, computer science, electronics, information technology, biology, informatics practices, biotechnology, agriculture, technical vocational subject, engineering graphics, business studies and entrepreneurship.
SC: Justice Indu Malhotra's tenure ends
Justice Indu Malhotra, the first woman judges to be appointed to the Supreme Court Bench directly from the Bar, completed her tenure on March 11, 2021. She is known for her lone dissenting opinion in the Sabarimala judgment.
Economy & Corporate
Transport Ministry proposes de-registration of govt.-owned vehicles after 15 years
Registration of government-owned vehicles will not be renewed after a period of 15 years. The ministry of road transport and highways on March 12, 2021 issued a draft notification, proposing that registration of motor vehicles owned by Central government, State or Union Territory governments, local government institutions, PSUs, State transport undertakings, autonomous bodies with central or State governments, will not be renewed after 15 years. This policy is proposed to be effective from 1 April 2022, and the ministry has invited suggestions and objections on the notification over a period of 30 days.
World Bank economist Deepak Mishra appointed as director of ICRIER
Deepak Mishra, Practice Manager in the World Bank's Macroeconomics, Trade, and Investment Global Practice, has been appointed as the next director and chief executive of the Indian Council for Research on International Economic Relations (ICRIER). He will take the charge from Rajat Kathuria who has been the director and chief executive of ICRIER since 1st September 2012.
World
Quad to deliver up to 1 billion Covid-19 vaccine doses to Indo-Pacific region: USA
Highlighting core issue that were discussed during First Quad Leaders' Virtual Summit with Japanese PM Yoshihide Suga, Prime Minister Narendra Modi, Australian PM Scott Morrison and US President Joe Biden on March 12, USA's National Security Advisor Jake Sullivan said that the quad has agreed to deliver up to 1 billion COVID-19 vaccine doses to Indo-Pacific region.
An-26 aircraft crashes while landing at Kazakhstan's Almaty airport
An An-26 aircraft flying from the Kazakh capital, Nur-Sultan, crashed while landing in Almaty on March 13, 2021. Russia's Interfax news agency said citing a source that six people were on board the plane which belonged to Kazakhstan's border guard service.
WHO grants emergency use authorization to single-shot coronavirus vaccine
The World Health Organization (WHO) on March 12, 2021 issued emergency use authorization for Johnson & Johnson's coronavirus vaccine, paving the way for the one-shot dose to be used as part of the United Nation's international vaccine distribution effort. The vaccine from Johnson & Johnson is the first to be listed by WHO as a single dose regimen, which should facilitate vaccination logistics in all countries.
China: Parliament approves 14th five-year plan (2021-25)
China's Parliament on March 11, 2021 formally approved the outline of its 14th five-year plan (2021-25), which highlights a number of key strategic projects to be pursued as a priority, including the first dam in Tibet on the lower reaches of the Yarlung Zangbo or Brahmaputra, a Sichuan-Tibet railway line near the India border, and a push for self-sufficiency in emerging industries such as Artificial Intelligence (AI).
China overhauls Hong Kong's poll system
China on March 11, 2021 passed sweeping changes for Hong Kong's electoral system that will give Beijing-appointed politicians a greater say in running the Special Administration Region (SAR), marking the biggest change since the handover in 1997. The National People's Congress (NPC), the Communist Party-controlled legislature, approved "to improve" Hong Kong's electoral system. At the heart of the new proposal is a move to give Beijing-appointed politicians greater power in running the HKSAR's politics, through a newly expanded Election Committee of 1,500 members.
Sports
England beat India in the first T-20 match at Ahmedabad
England beat India by eight wickets in the first T-20 match at the Narendra Modi stadium in Ahmedabad on March 12, 2021. Put into bat first, India scored 124 runs for the loss of seven wickets in the stipulated 20 overs. In reply, England chased down the target of 125 in 15.3 overs.
69th National volleyball championships held in Bhubaneswar
Haryana men and Kerala women won the 69th National volleyball championships at the KIIT University in Bhubaneswar on March 11, 2021. Both the finals were won in straight sets with Haryana beating Assam and women's defending champion Kerala prevailing over Railways. Kerala men defeated Railways 36-38, 25-18, 23-25, 25-21, 15-12 in a two-hour thriller for the bronze.
Month: Current Affairs - March, 2021
Category: Today's News Headlines
Topics: Current Affairs Headlines • Current Affairs: News Headlines • Headlines • Latest News Headlines • News Headlines • Top Headlines
Latest E-Books