Current Affairs – January 6, 2021 [Today's News Headlines]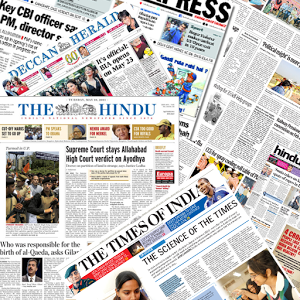 Here are today's news headlines by GK today for January 6, 2021
India
Supreme Court clears Central Vista project
On January 5, 2021, the Supreme Court gave its nod to the New Central Vista project. The project includes a common Secretariat, Parliament building and renovated rajpat is switching between India Gate and Rashtrapati Bhavan.
PM CARES fund for oxygen generation
The Prime Minister's Citizen Assistance and Relief in Emergency Situation fund is to be used for medical oxygen generation. Around 201.58 crores of Rupees have been allocated for this purpose.
First all women team of NDRF
An All women NDRF team was recently deployed on the banks of Ganga River for contingency duties in Uttar Pradesh to.
Swasth Vayu ventilator
The Council of Scientific and Industrial Research scientists have designed and developed and non invasive ventilator called Swasth Vayu. It has been recently approved by the Director General of Health Services.
World Bank provides 105 million USD loan for waterways in West Bengal
On January 5, 2021, the World Bank and the Government of India signed a 105 million USD agreement to improve the inland water transport infrastructure in Kolkata, West Bengal.
Tamilnadu Government permits 100% Occupancy in cinema theatres
On January 4, 2021, State Government of Tamil Nadu ordered to permit 100% Occupancy in cinema theatres in the state. The decision has created high debate all over the state.
Alexander Ellis appointed new High Commissioner of UK to India
The British government recently appointed Alexander Ellis as the new high commissioner to India. He is succeeding Sir Philip Barton.
Argentine film maker will head the international jury of 51st IFFI
Pablo Caesar of Argentina was announced as the head of the international jury of International Film Festival of India. The Other jury members are present from shrilanka, Priyadarshan of India, Abu Bakr of Austria and Rubaiiyat Hossain of Bangladesh.
TRIFOOD parks in MP
The Ministry of Tribal Affairs and TRIFED recently signed a memorandum of understanding with the Akhil Bhartiya Vanvasi Kalyan Kendra to set up TRIFOOD park in the state of Madhya Pradesh .
Economy and Corporate
Global economic prospects report of world bank
On January 5, 2021, the World bank released the Global Economic Prospects. According to the report, the Global economic output is projected to grow by 4% in 2021. India is expected to grow at 5.4 % in 2021-22.
World Braille Day: January 4
On January 4, 2021, the World Braille Day was celebrated.
Toycathon 2021
Union Education Minister Ramesh pokhriyal nishank and the Union Minister of textiles and women and child development Smriti Irani launched Toycathon 2021. It will promote manufacturing of indigenous toys. It will also focus on conceptualising new and innovative toys using local material.
Freight Business Development Portal
On January 5, 2020 Railway Minister Piyush Goyal launched a fried Business Development portal of a one. Solution for all the needs of right customers .
PM inaugurated Kochi kottanad Bengaluru LNG pipeline
On January 5, 2021, the Prime Minister Narendra Modi inaugurated of 450 km long Kochi koottanad Bengaluru LNG pipeline through video conferencing. The plan is to increase the share of Natural Gas in energy sector from 6 % to 15% by 2030.
Bharat Biotech and Sairam Institute of Technology pledge for smooth vaccine rollout
On January 5, 2021, the hyderabad-based Bharat Biotech and pune-based Serum Institute of Technology issued a joint statement pledging to provide covid-19 vaccines to India and the world in a smooth way.
SIDBI and TATA Power offer rooftop solar financing for MSMEs
On January 5, 2021, the TATA Power and SIDBI announce their partnership to provide a finance scheme to the MSMEs in solar rooftop segment. According to TATA Power,  easy financing is one of the barriers for penetration of solar energy in the MSME sector.
Saudi Arabia to lift Qatar Embargo
On January 4, 2021, the Foreign ministry of Kuwait announced that Saudi Arabia will open its air and land borders with Qatar. These are the first steps towards ending a diplomatic crisis that deeply divided the regional you was released since 2017. Since the mid of 2017, most of the only land border of Qatar was closed. Egypt, Saudi Arabia, Bahrain and UAE had launched a blockade against Qatar accusing it of supporting islamist groups. Qatar was also accused of having warm ties with Iran .
Highest number of babies born on new year in India: UNICEF
UNICEF recently announced that more than 371,504 babies were born in India. This is the highest number of births on the new year according to UNICEF.
Pakistan supreme court orders reconstruction of vandalize Hindu temple
On January 5, 2021, the Pakistan Supreme Court ordered the Evacuee Property Trust Board to reconstruct a century year old Hindu temple. The temple was vandalized and set on fire by a mob in Karak district on December 30, 2020. The attack has caused International embarrassment to the country.
Sports
Former tennis coach Bob Brett dies at 67
The Australian coach Bob Brett who trained Boris Becker passed away on January 5, 2021.
Month: Current Affairs - January, 2021
Category: Today's News Headlines
Topics: Current Affairs Headlines • Current Affairs: News Headlines • Headlines • Latest News Headlines • News Headlines • Top Headlines
Latest E-Books