Current Affairs – January 23, 2021 [Today's News Headlines]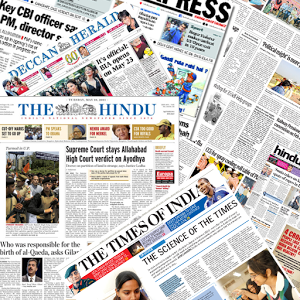 Here are today's headlines by GK Today for January 23, 2021:
India
Exercise Desert Knight 21
On January 21, 2021, India and French Air Forces conducted Exercise Desert Knight 21 in Jodhpur. The Rafale fighter jets participated in the exercise.
IIT Roorkee and Ministry of Road Transport sign MoU
On January 22, 2021, the Ministry of Road Transport and Highways and IIT Roorkee signed a Memorandum of Understanding in New Delhi. Under the agreement, the Ministry of Road Transport and Highways is to focus on research and development and training, in the area of development of highway infrastructure.
India in third position in scientific publication
On January 22, 2021, the Department of Science and Technology announced that India is currently in third position in scientific publications after China and US. According to DST, the initiatives such as National Initiative for Developing and Harnessing Innovations have played a crucial role to reach this position.
Bhajan Singer Narendra Chanchal dies
On January 22, 2021, the popular Bhajan Singer Narendra Chanchal died at the age of 80.
Economy and Corporate
BSE Sensex crosses 50,000
On January 21, 2021, the BSE Sensex crossed 50,000 for the first time.
RBI discussion paper proposes four tier structure for NBFC regulations
On January 22, 2021, the Reserve Bank of India released a discussion paper. The paper aimed to initiate a regulatory framework for the Non-Banking Financial Corporation. The four structures of the regulatory framework include base layer, middle layer, upper layer and top layer.
ShramShakti
The Union Minister of Tribal Affairs Arjun Munda recently launched "ShramShakti". It is a National Migration Support Portal.
World
Treaty on Prohibition of Nuclear Weapons enters into force
On January 22, 2021, the first treaty to ban nuclear weapons called the "Treaty on Prohibition of Nuclear Weapons" came into force. The treaty was approved by United Nations General Assembly in 2017. It was supported by 120 members of the UN. However, none of the nine members of the UN that possess nuclear weapons supported it. These nine countries are US, Britain, Russia, China, France, Pakistan, India, Israel and North Korea.
Asia Cooperation Dialogue held virtually
On January 21, 2021, the Asia Cooperation Dialogue was held virtually under the theme "The new Normal and Safe and Healthy Tourism". The Asia Cooperation Dialogue countries also adopted the "Ankara Declaration "in the end of the meet.
United Nations adopts resolution to safeguard religious sites
The United Nations recently adopted a resolution to promote a culture of peace and tolerance. The resolution aims to safeguard religious sites spread all over the world.
Sri Lanka sets up panel to probe findings of previous commissions
On January 21, 2021, Sri Lankan President Gotabaya Rajapaksa appointed a three-member panel to probe the findings of previous commission that investigated the alleged rights abuses committed by both LTTE and the government troops during the 2009 armed conflict.
Month: Current Affairs - January, 2021
Category: Today's News Headlines
Topics: Current Affairs Headlines • Current Affairs: News Headlines • Headlines • Latest News Headlines • News Headlines • Top Headlines
Latest E-Books