Current Affairs – December 15, 2020 [Today's News Headlines]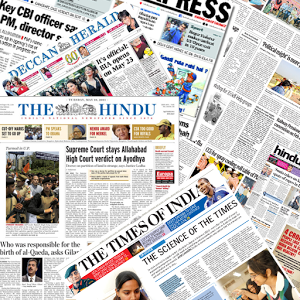 Here are Today's News Headlines for December 15, 2020
India
Guidelines issued for covid-19 vaccination drive
The Government of India recently released guidelines to the states for or covid-19 vaccination drive. According to the guidelines around hundred to 200 people are to be vaccinated in a single session per day. They are then to be monitored for 30 minutes.
Vision 2035: Public Health surveillance in India
On December 14, 2020, Niti Aayog released vision 2035-Public Health surveillance in India. It laid out India's vision for public health surveillance through integration of three tired Public Health system into Ayushman Bharat.
IIT-madras shut down due to covid-19
over hundred from Indian Institute of Technology Madras have been infected with covid-19. Majority are students. Only 700 students are accommodated in the institute. Most of them are research scholars accommodated in nine hostel.
Stealth Frigatte Himgri built
The garden reach shipbuilders and engineers Limited are building the first 3 stealth frigates, Himgiri in Kolkata under project 17 A. Under this project a total of seven ships are being built, three ships at GRSE and 4 at Mazagon Dock shipbuilders Limited.
Offshore Patrol vessel being built at Goa
The Saksham Offshore Patrol vessel is being built at Goa Shipyard Limited. It is the first and last Offshore Patrol vessel. It was launched on December 14 2020.
Economy and corporate
Wholesale inflation at 9 month high
The wholesale inflation index rose for the fourth consecutive month and increased up to 9 month high of 1.55 % .
Retail inflation at 6.93 %
The retail inflation of India that is measured in terms of the consumer price index has eased marginally to 6.93%.
Wistron loss at Rs 437 crores
Taiwan based contract manufacturer for Apple, wistron Corporation announced that it has suffered a loss of 437 crores of Rupees due to violence initiated by a section of workers over salary issues.
 World
Novelist John Le Carre dies
John Le Carre died on December 12, 2020 in England at the age of 89. He is known for novels such as the spy who came in from the cold and several other cold war thrillers.
Eswatini Prime Minister Ambrose Diamini dies
The Eswatini Prime Minister Ambrose Diamini died of COVID-19. He was 52.
Month: Current Affairs - December, 2020
Category: Today's News Headlines
Topics: Current Affairs Headlines • Current Affairs: News Headlines • Headlines • Latest News Headlines • News Headlines • Top Headlines
Latest E-Books