Current Affairs – December 14, 2020 [Today's News Headlines]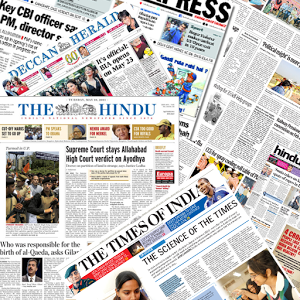 Here are Today's News Headlines for December 14, 2020
India
Fifth National family health Survey released
On December 12, 2020, the Ministry of Health and Family Welfare released the fifth National Family Health Survey. According to the survey, mortality rate of infants and those under 5 years has fallen in 18 states and union territories.
Book on 19th anniversary of attack on Parliament released by Lok Sabha speaker
On December 13, 2020, the Lok Sabha Speaker Shri Om Birla released a book on the occasion of the 19th anniversary of the attack on Indian Parliament. The title of English version of the book was "The Shaurya Unbound" and the hindi version was "Samundar Samave Boond Mein".
Vidyavachaspati Bannanje Govindacharya dies
The renowned Sanskrit scholar died in Udupi on December 13, 2020. He was conferred with Padmashree in 2009. Also he was the brand ambassador of India at the world conference on religion and peace, 1979 .
IBRD applauds India
The International Bank for reconstruction and development recently uploaded India for its efforts towards river rejuvenation and cleanliness projects.
India and Bangladesh to open "Swadhinata Sarak"
On March 26, 2021, India and Bangladesh are to open the "Swadhinta Sarak". Also, the countries are to open the Chilahati-Haldibari rail link.
Economy and corporate
Bharti infratel to change its name
The Bharti infratel has received approval from the the register of companies to change its name to Indus Towers.
World
Climate Action Summit
On December 12, 2020, the United Nations organised to the Climate Action Summit to mark the 50th anniversary of the adoption of Paris agreement.
UNESCO to launch bangabandhu Sheikh Mujib price
The UNESCO is to launch an international prize in the field of Creative economy in the name of bangabandhu Sheikh Mujibur Rahman. The prize money e under the award is 50000 USB. It is to be provided once in 2 years for global economic initiatives of the youth. The award is to be presented starting from November 2021. In a score has declared 2021 as the International year of Creative economy for sustainable development.
Shaheen Joint Air Force exercises
China and Pakistan recently held Shaheen joint Air Force exercises.
Charley Pride died
The American singer, guitarist and Professional Baseball player Charley Pride died at the age of 86 in the United States.
International Universal health coverage day
On December 12, 2020, the International Universal Health Coverage day was celebrated.
Sports
Anthony Joshua retains world heavyweight title in Boxing
Anthony Joshua of United Kingdom knocked out Kubrat Pulev of Bulgaria retaining his WBA, IBF, WBO world heavyweight titles.
Max Verstappen wins Formula One
On December 14, 2020, Red Bull Driver Max Verstappen won the season ending Formula One Abu Dhabi Grand Prix.
Month: Current Affairs - December, 2020
Category: Today's News Headlines
Topics: Current Affairs Headlines • Current Affairs: News Headlines • Headlines • Latest News Headlines • News Headlines
Latest E-Books