Cuba's former President Fidel Castro passes away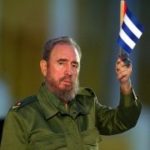 Cuba's former president and leader of the Communist revolution Fidel Castro passed away due to old age. He was 90.
He was commander in chief of the 1959 Cuban revolution 1959  and had successfully built a communist state on the doorstep of the United States during Cold War.
He had ruled Cuba as a one-party state for almost half a century (from 1976 to 2008) before handing over the powers to his brother Raul Castro in 2008 due to ill health.
About Fidel Castro
He was born as Fidel Alejandro Castro Ruz on August 13, 1926 in Birán, Holguin Province, Cuba.
In 1953, he was imprisoned after leading an unsuccessful rising against Batista's regime. However was released in 1955 from prison under an amnesty deal.
In 1956, Castro along with Che Guevara started a guerrilla war against the Cuban government led by US-backed dictator Fulgencio Batista.
In 1959, he overthrew dictator Fulgencio Batista Government in through Communist revolution. He was sworn in as prime minister and was in office from 1959 to 1976.
In 1960, he successfully fought off CIA-sponsored Bay of Pigs invasion by Cuban exiles. He also defied many attempts even assassination attempts of US to topple him from power.
1962, under his leadership Cuba allowed USSR can deploy nuclear missiles on its territory which had resulted into Cuban missile crisis.
Under his leadership, Cuba became a one-party communist state, industry and business were nationalized and state socialist reforms implemented throughout society.
His greatest legacy is free healthcare and education, which have given Cuba some of the region's best human development statistics.
In 2008, he stepped down as President of Cuba due to health issues. He was in office from 1976 to 2008. He world's third longest-serving head of state, after Britain's Queen Elizabeth and the King of Thailand.
Month: Current Affairs - November, 2016
Topics: Cuba • Cuban missile crisis • Cuban Revolution • Fidel Castro • International • Obituary • Persons in News
Advertisement