Cuba and Morocco re-establish diplomatic ties after 37 years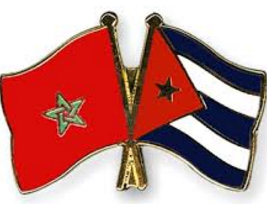 Guided by the mutual will to develop friendly relations, Cuba and Morocco has signed an agreement to re-establish diplomatic ties after a time period of 37 years. The two governments have also agreed to forge political, economic and cultural cooperation. The agreement to this effect was signed at the headquarters of the Permanent Mission of Cuba to the United Nations.
King Mohamed VI of Morocco has ordered the opening of a Moroccan embassy in Havana. Cuba is one of the few Latin American countries in which Morocco does not have any representation. It is expected that the relations between the countries would be restored after the exchange of ambassadors.
After Cuba's diplomatic reestablishment with Morocco, Israel, South Korea and Somalia remain the only countries which do not have any ties with Cuba.
The decision to re-establish diplomatic ties has been made couple of weeks after King Mohammed's private visit to Cuba. The visit of King Mohammed VI is the first ever made by a Moroccan king to Cuba.
Background
Morocco severed its ties with Cuba in 1980 after Fidel Castro officially recognised Western Sahara as the independent Sahrawi Arab Democratic Republic (SADR). Morocco claims the territory as its own.
The Cuba and Morocco relationship suffered several strains since 1960s due to Cuba's decision to side with Algeria during the Morocco-Algerian military conflict of 1963 known as the "Sand War." In 1970s, Cuba again decided to side with Algeria in its support for the independence of the Western Sahara from Morocco.
Month: Current Affairs - April, 2017
Topics: Cuba • Cuba-Morocco • International • Morocco • Sahrawi Arab Democratic Republic (SADR)
Latest E-Books