CSIR-CMERI develops Solar Power Tree for generation of electricity from solar energy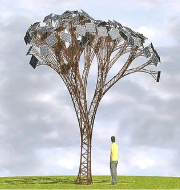 The Union Ministry of Science and Technology has launched 'Solar Power Tree', an innovative way to generate electricity by harnessing maximum solar energy in a limited space.
It was launched by Union Minister for Science & Technology and Earth Sciences Dr. Harsh Vardhan in New Delhi.
Key Features of Solar Power Tree
The Solar Power Tree has been developed by the CSIR-Central Mechanical Engineering Research Institute (CSIR-CMERI).
It can harnesses solar energy for producing electricity with an innovative vertical arrangement of solar cells.
It reduces the requirement of land as compared to conventional Solar Photovoltaic layout. It keeps the land character intact and is viable in both rural and urban areas.
It takes only 4 square feet of land for installing a 5 KW Solar Power tree. But in a conventional horizontal layout for generating 5 KW it requires 400 square feet of land.
On an average, it harnesses more sunrays for one hour in a day as photovoltaic panels are placed at higher height.
It can harness up to 10-15% more power in comparison to a conventional layout on ground.
It has a battery back-up of 2 hours on full load and can give light even after sunset.
It is facilitated with water sprinkler at the top for self-cleaning of panels which help to increase the efficiency of the solar panels.
CMERI: It is a constituent laboratory of Council of Scientific and Industrial Research (CSIR).
Month: Current Affairs - July, 2016
Topics: CMERI • CSIR • Renewable energy • Science and Technology • Solar Energy • Solar Power Tree
Latest E-Books