City Union Bank launches India's first banking robot Lakshmi in Chennai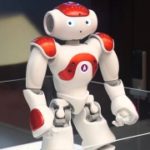 India's first banking robot named Lakshmi was launched by the Kumbakonam-based City Union Bank (CUB) in Chennai, Tamil Nadu.  Lakshmi will be first on-site huamanoid (robot) in India.
Currently, CUB has readied only one version of huamanoid banker and but is planning to deploy 25-30 robots at key branches by end of year if Lakshmi proves a hit with customers.
Key Facts
Lakshmi is artificial intelligence powered robot. It can speak English, gesture and engage in a life-like manner in conversations.
The robot can interact with customers on more than 125 subjects including account balance and interest rates on loans.
It will not voice the sensitive financial information like account details rather display it discreetly on its screen.
What is artificial intelligence?
Artificial intelligence is the branch of computer science concerned with making computers behave like humans. In contrast to normal hardware and software, artificial intelligence enables a machine to perceive and respond to its changing environment. The artificial intelligence machines learn automatically like humans during their processing by assimilating large volumes of information.
Month: Current Affairs - November, 2016
Topics: Artificial intelligence • Banking • Banking Robot • Lakshm • Science and Technology • Tamil Nadu
Advertisement