China sends fighter jets amidst US's support for Taiwan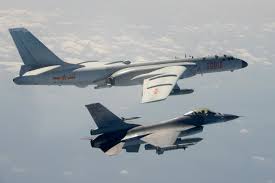 Chinese Air Force fighter jets crossed the mid-line of the Taiwan Strait briefly and they were tracked by Taiwanese missiles. The US health Chief Alex Azar also visited the island to offer support of President Donald Trump to the government of the island nation. China condemned this visit by the US Official as China claimed this island as its own.
Reaction of China
China has promised unspecified retaliation to the trip by the US Official. Their aircraft J-11 and J-10 fighter aircraft flew briefly to the Taiwanese air space. The defence ministry of China has not commended anything regarding this allegation. This was the third time since 2016 that Taiwan has said that Chinese jets had crossed the median line of the said strait. Amidst all these, the USA has extended its full-fledged support to the island nation.
China-Taiwan Relations
China has claimed Taiwan through its 'One China' policy since the Chinese Civil War forced the defeated Kuomintang or Nationalist, to flee to the island in 1949 and has vowed to bring it under Beijing's rule, by force, if necessary. Taiwan is now self-governed and independent by virtue of it being free but it has never formally declared independence from the mainland. Now, China wants to obtain this territory under 'One China' policy, which means that there is only one China and Taiwan is part of that.
India-Taiwan Relations
India and Taiwan have no direct diplomatic relations between them but they have been cooperating in various fields. India has also refused to endorse the 'One China' Policy since 2010.
US-China Standoff
The main reason is the trade-related tariffs between the two countries. The US claims that China is doing discrimination in terms of trade so that it can get an advantage over the other countries. That is why; the US has imposed tariffs on China and China has, in its turn, retaliated by imposing counter-tax on the US. Also, the US has banned certain Chinese companies from doing business in the country and has also beckoned other ally countries to do the same so that the country can be isolated from the rest of the world, economically.
Month: Current Affairs - August, 2020
Category: International Current Affairs
Topics: China • India • India-Taiwan Relations • Taiwan • the USA • US-China • US-China standoff
Latest E-Books