China, Pakistan ink agreement to launch satellite to monitor CPEC projects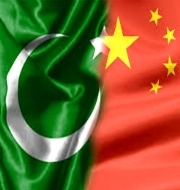 China and Pakistan have signed an agreement for the launch of a special satellite to monitor the development of the multi-billion dollars China-Pakistan Economic Corridor (CPEC) projects.
In this regard, both countries have decided for development and launch of the Pakistan Remote Sensing Satellite (PRSS-1) System and launch a satellite in June 2018.
Implications
This agreement will also transfer space technology to Pakistan as the PRSS-1 is considered as yet another flagship project between China-Pakistan after CPEC.
It would also help Pakistan in its national security arena by strengthening surveillance apparatus and border security.
Comment
This bilateral cooperation in space domain would open new arena of socio-economic and scientific cooperation and would give boost to the historic bilateral cordial relations in other fields between all-weather friends.

About China-Pakistan Economic Corridor (CPEC) Project
CPEC refers to a clutch of major infrastructure projects currently under way in Pakistan. The corridor is mainly consists of road, rail and power projects.
It is intended to link Kashgar in Xinjiang province of China to Gwadar deep sea port close to Pakistan's border with Iran.
China's Gain: The CPEC is part of China's regional transnational 'One Belt One Road' (OBOR) initiative that connects large patch of Asia and Eastern Europe.
Gwadar Port is strategically located and lies close to the Strait of Hormuz (near Iran), a key international oil shipping lane.
It could open up an energy and trade corridor from the Gulf region across Pakistan to western China and also could be used by the Chinese Navy for military purpose.
The CPEC will give China land access to the Indian Ocean, cutting the nearly 13,000 km sea voyage through the Strait of Malacca (major chokepoint) and around India to 2,000 km road journey from Gwadar to Kashgar.
The development of Kashgar as a trade terminus will reduce isolation of the underdeveloped Xinjiang province and deepen its engagement with the rest of China.
Land locked energy rich Central Asian countries are keen to plug their infrastructure networks to the CPEC.
It will allow Central Asian countries access to the Indian Ocean, while contributing to the OBOR initiative.
Pakistan's Gain: The project seeks to upgrade and expand infrastructure across the length and breadth of Pakistan and deepen economic ties between both countries.
The CPEC theoretically can be a gamechanger for Pakistan as it has potential to boost economic scenario at a time when terrorism has severely affected it.
Pakistan also expects the CPEC will bind it closer with close friend China, giving it greater strategic leverage with both United States and India in the Indian Ocean region.
India's Concern: India has already objected to the China Pakistan Economic Corridor as it passes through the Pakistan occupied Kashmir (PoK). This corridor may also impact the security of the nation.
But experts believe that India has no worry over the construction of CPEC as an economically strong Pakistan would bring stability in the region.
Month: Current Affairs - April, 2016
Topics: China-Pakistan • CPEC • International Relations • UPSC
Latest E-Books