Charter of Affiliation: signed between Assam Rifles and ICG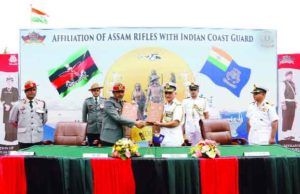 The Director Generals of Assam Rifles and Indian Coast Guard signed a 'Affiliation Charter' between 3rd (Naga Hills) Battalion of Assam Rifles and Indian Coast Guard (ICG) Ship 'Shaurya' at a ceremony held at Laitkor, Shillong. It aims to enhance inter-armed forces cooperation between two and utilise each other's assets for training and sports.
Key Highlights
Objective: to promote bilateral cooperation between the ICG and Assam Rifles in field of exchange of information and personnel and to build-up camaraderie for training in sports, adventure and sustainable development.
Significance: This affiliation charted will facilitate the 'Sentinels of the North East' (Assam Rifles) to interact with 'Sentinels of the Seas' (Indian Coast Guard) on professional as well as social platforms and share their rich experiences and best practices.
Importance: The two Armed Forces will benefit from motivating one another towards common goals. Assam Rifles personnel will be able to understand oddity of Maritime Service (ICG) and role played by them in guarding and intercepting anti-national forces and non-state actors who are detrimental to maritime and coastal security. Similarly, ICG personnel will be able to understand the operational ethos of Assam Rifles while working along the Indo-Myanmar border.
About Assam Rifles
It is India's oldest Para Military Force. It has a rich history of valour, courage and tradition. It has 46 Battalions deployed at Indo-Myanmar border and for countering the insurgency in north east states.
3rd (Naga Hills) Battalion Assam Rifles: is oldest battalion of the Para Military force. It was raised in 1835 as 'The Cachar Levy' for guarding Eastern Frontier of Assam from Brahmaputra river to Cachar Hills and comprised of 750 personnel of all ranks. At present, the battalion is developed at Kohima (Nagaland capital) where in past it bravely fought against Japan in World War-II and stopped their advance into India.
About ICG Ship 'Shaurya'
Indian Coast Guard is one of youngest Armed Force under Ministry of Defence and is responsible for safeguarding the maritime interest of India. It has 142 ships & 62 aircraft in total.
The ICG Ship 'Shaurya' is built indigenously at Goa Shipyard Limited. It is a modern state-of-the-art 105 mtrs long Offshore Patrol Vessel (OPV) which was on August12, 2017 and is based in Chennai.
The word 'Shaurya' means courage. This is thus a projection of ICG's commitment 'To Serve & Protect' maritime interest of the country.
It is extensively developed for Exclusive Economic Zone (EEZ) surveillance and other duties as enshrined in the Coast Guard charter.
Month: Current Affairs - May, 2019
Category: Defence Current Affairs
Topics: 3rd (Naga Hills) Battalion of Assam Rifles • Affiliation Charter' • Assam Rifles • Director Generals of Assam Rifles • EEZ • Exclusive Economic Zone • Goa Shipyard Limited • ICG Ship Shaurya • Indian Coast Guard • Indo-Myanmar Border • Ministry of Defence • Offshore Patrol Vessel • Sentinels of the North East • Sentinels of the Seas • The Cachar Levy • World War II
Latest E-Books