Centre extends Ceasefire with Naga rebel groups till April 27, 2018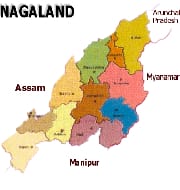 The union government has extended the ceasefire with the two Naga armed factions, namely, National Socialist Council of Nagaland-Reformation (NSCN-R) and National Socialist Council of Nagaland-Neakpao-Kithovi (GPRN/NSCN) till April 27, 2018. The decision over extension of ceasefire was taken at a meeting held between the officials of Home Ministry and the Ceasefire Supervisory Board of Naga armed factions. A ceasefire is already in operation between the government and the Naga armed factions of NSCN-R and NSCN-NK.
Background
Nagaland is known as an epicentre of insurgency in north-eastern India. The Union Government and the insurgent group NSCN had entered into a ceasefire accord in 1997. Since then, they have continued with the peace process.
The Naga rebels have been insisting on their sovereignty and also demanding the creation of a 'Greater Nagaland' or Nagalim, which consists all the Naga-inhabited areas of neighbouring Assam, Manipur, Arunachal Pradesh and some portions Myanmar, which it considers to be the rightful homeland of the Nagas.  However, the establishment of Nagalim threatens to include large chunks of territories of three neighbouring States, Assam, Manipur and Arunachal Pradesh, along with some portion of Myanmar. Thus, fulfilling the demand of a Greater Nagaland would affect the integrity of other states.
In 2010, the Government of India had made it clear that it will not change the boundaries of the current states. In August 2015, a 'framework agreement' between the Central Government and the NSCN-IM was signed. The agreement brought to an end 'almost two-decade-old' ceasefire and endless rounds of 'talks' and has opened up avenues of peace talks with the militias.
Month: Current Affairs - April, 2017
Topics: Nagaland • NSCN • States
Latest E-Books