Cabinet approves auctioning of 680 FM channels under Phase III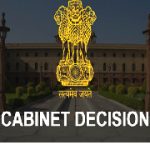 The Union cabinet has approved auction of 683 private FM radio frequencies in 236 cities across country under Phase III of FM radio privatization. This decision will usher in new/enhanced experience of FM radio in more cities.
The sale of these channels in Phase III is likely to generate direct and indirect employment to more than 10,000 persons on a pan-India basis. It will also yield estimated revenue of more than Rs 1,100 crore.
Key Facts
The third batch of FM auctions will cover cities with no private FM radio presence, including cities in border areas of Jammu and Kashmir and north-east states where the population is less than 100,000. With completion of FM Phase III auctions, the government is planning to cover all the 29 states and 6 out of the 7 union territories (Dadra & Nagar Haveli is the exception) by private FM radio broadcasting.
Background
Earlier, two batches of electronic auctions under Phase III had taken place in 2015 and 2016. 97 channels in 56 cities were sold in the first batch, 66 channels in 48 cities were sold in the second. The total value of sold channels was Rs.1,187 crore. However, government also made more than Rs. 3,000 crore from these auctions with migration fee from 245 stations that moved from Phase 2 to Phase 3.
Month: Current Affairs - December, 2017
Topics: Business • Cabinet Decisions • Economy • FM Radio Privatization • National
Advertisement