Bulletin: National Training Workshop for 7th Economic Census organized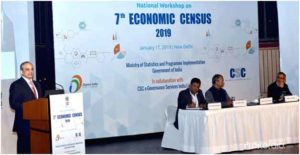 A comprehensive training strategy called National Training Workshop of Master Trainers to impart training to trainers engaged in upcoming 7th Economic Census was held at Indian Habitat Center in the New Delhi. It was organized by Ministry of Statistics and Program Implementation (MoSPI).
Key Highlights
Objective: to impart training to Master trainers (enumerators and supervisors) engaged in Seventh Economic Census (7th EC).
Implementing Agency:Ministry of Statistics and Program Implementation (MoSPI) has partnered with Common Service Centre, CSC e-Governance Services India Limited (CSC SPV), a Special Purpose Vehicle under Ministry of Electronics and Information Technology (MeitY) for implementation.
Training: The participants were trained on key concepts and definitions, processes, digital platform and application to be used for enumeration (supervision and data capture) in field during 7th Economic census.
Reason: An Information Technology (IT) based digital platform for validation, data capture, report generation and distribution will be used in upcoming Economic Census. The fieldwork for 7th EC will be commencing from June 2019.
7th Economic Census 2019: It is being conducted by MoSPI to provide disaggregated information (numerical or non-numerical information collected from multiple sources) on various structural and operational aspects of all establishments in country. After the National Training Workshop of Master Trainers in New Delhi similar exercise will be undertaken across India. During month of May and June 2019 over 6000 State and District level training workshops will be organized.
About Economic Censuses
It is a complete count of all establishments and units located within geographical boundaries of country.
Background: The first Economic Census was undertaken in 1977. The 2nd edition was carried out in 1980 followed by 3rd EC in 1990. The 4th EC took place in 1998 while 5th EC was held in 2005. The Sixth edition of Economic Census was conducted in 2013.
Objective: It provides detailed information on operational and economic variables, activity wise, and other characteristics like number of establishments, type of ownership, source of finance, number of persons employed, etc. The details about establishments across country include their distribution at all-India, State, district, village and ward levels. This is used for comprehensive analysis of structure of economy (macro, micro, regional levels) and for benchmark purposes.
Significance: The database so collected also serves as a sampling frame for drawing samples for socio economic surveys by Government and research organizations. This information is used for micro level or decentralized planning and to assess contribution of various sectors of economy in gross domestic product (GDP).
Month: Current Affairs - May, 2019
Category: Economy & Banking Current Affairs
Topics: 7th Economic Census 2019 • Common Service Centre' • CSC SPV • Economic Censuses • Indian Habitat Center • Ministry of Electronics and Information Technology • Ministry of Statistics and Program Implementation • National Training Workshop of Master Trainers • special purpose vehicle
Latest E-Books