Bulletin: India delivers First Pair of Mi-24 helicopters to Afghanistan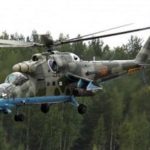 India recently handed over two Mi-24 attack helicopters to Afghanistan. The helicopters were formally handed over by Indian Ambassador to the acting Minister of National Defence of Afghanistan at Kabul Air Force base.
Key Highlights
Background: Under a tripartite agreement in 2018, India had agreed to finance purchase of four attack helicopter from Belarus and then deliver them to Afghanistan.
This is the second time that India agreed to transfer lethal military equipment to Afghanistan. In December 2016 India had gifted four Mi-25 (Mi-24D) helicopters drawn from the inventory of the Indian Air Force and three Cheetah utility helicopters manufactured by Hindustan Aeronautics Limited (HAL) to the Afghan Air Force (AAF). In past India has also transferred non-lethal equipment, including vehicles, communication equipment, transport choppers & medical supplies to Afghanistan.
About: The helicopters delivered are a replacement for four attack helicopters which India gifted to Afghanistan in 2015. Soon remaining two will be sent as replacement.
Objective: to strengthen Afghan air force against battling an increasing deadly Taliban insurgency in the backdrop of the United States (US) looking to exit war-torn country (after 17-year stay).
Importance: The handover of Mi-24 comes at crucial time for Afghanistan, which is looking for alternative sources of funds and weapons to steady and sustain its defence forces in case of US exit and eventual consumption of international funds. India has pledged and donated more than $3billion in aid and reconstruction efforts to Afghanistan.
Signifance: The Mi-24 helicopters will enhance effectiveness of Afghan National Defence and Security Force and will boost capability of Afghan Air Force (AAF) in combating rising terrorism in country. It will also bolster war-torn country's capability in fight against terrorism and counter insurgency.
Mi-24
It is a large helicopter gunship thus can be used for assault. It can also be used for transport missions as it can ferry up to eight people.
Being a attack helicopters, it is designed to take on fortified enemy positions and locations prone to heavy ground fire to flying in troops.
Month: Current Affairs - May, 2019
Topics: AAF • Afghan Air Force • Afghan National Defence and Security Force • Afghanistan • Cheetah Utility Helicopters • Hindustan Aeronautics Limited • India-Afghanistan • Mi-24 • Mi-24D • Mi-25 • Taliban • US Withdrawal from Afghanistan
Advertisement