BRICS deal on cooperation in remote sensing satellite data sharing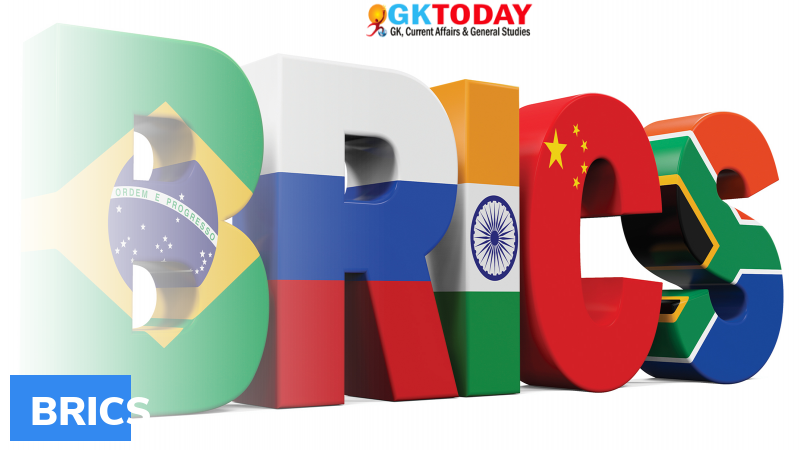 BRICS Nations- Brazil, Russia, India, China and South Africa- signed a deal for cooperation in remote sensing satellite data sharing.
Key Points
According to the Indian Space Research Organisation (ISRO), this deal will enable the space agencies of BRICS nation to build a virtual constellation of specified remote sensing satellites through which ground stations will receive data.
This agreement was signed on August 18, 2021 under India's BRICS Chairship.
About BRICS
BRICS nations are the major emerging economies who are known for their significant influence on regional affairs. Government of BRICS have been meeting annually since 2009 at formal summits. 12th BRICS summit was the latest edition which was hosted by Russia on November 17, 2020 virtually amid the COVID-19 pandemic.
History of BRICS
Originally, there were a grouping of BRIC (Brazil, Russia, India and China). South Africa was added to the grouping in 2010 to change the acronym to BRICS.
BRICS nations have a combined area of 39,746,220 km2 with an estimated t population of around 3.21 billion.  Area accounts for 26.656% of the world land surface while population accounts for 41.53% of the world population. Four members out of five are among world's ten largest countries by population as well as by area. Only South Africa is at 24th position with respect to both.
Bilateral relations among BRICS nations
Bilateral relation between BRICS nations is conducted on the basis of non-interference, equality, and mutual benefit. Existence of the BRICS group does not signify any formal or informal alliance as there are several economic, territorial, and political disputes among the five members.
Month: Current Affairs - August, 2021
Category: International Current Affairs
Topics: Bilateral relations among BRICS nations • BRICS Countries • Indian Space Research Organisation (ISRO) • remote sensing satellite data sharing
Latest E-Books