Barack Obama becomes first US president to visit Hiroshima bomb site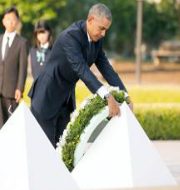 Barack Obama became the first incumbent US president to visit Hiroshima memorial, site of the world's first atomic bombing dropped on August 6, 1945.
He paid tribute to the 140,000 people killed by the world's first atomic bomb attack and laid wreath at Hiroshima nuclear memorial.
In the guest book of the memorial President Obama wrote "We have known the agony of war. Let us now find the courage, together, to spread peace, and pursue a world without nuclear weapons."
However President Obama did not officially apologize for the attack, which is viewed by many in the US as having hastened the end of World War II and others have called it a war crime that targeted civilians.
Background
The official trip of US President Barack Obama comes more than seven decades after an American plane, dropped its payload (nuclear bomb), dubbed 'Little Boy' over the western Japanese city.
The bombing had claimed lives of about 140,000 people and affected many from radiation-related illnesses.
Three days later (On 9 August 1945) US dropped a second bomb dubbed as 'Fat Man' on the city of Nagasaki in which 70,000 more people were killed.
The twin bombings by US were dealt as the final blows to Japan which led to its unconditional surrender on August 15, 1945, bringing an end to World War.
These two nuclear bombs attack on Japanese cities, are only instance in warfare history of mankind in which nuclear weapons by any country were used against another.
Comment
The visit US President Barack Obama also marks seven years since he used his trademark soaring rhetoric to call for the elimination of atomic (nuclear) arms in a landmark speech in Prague that helped him win the 2009 Nobel Peace Prize.
Visit of incumbent US President, is also considered as a gesture US and Japan hope will showcase their alliance and reinvigorate efforts to rid the world of nuclear arms.
Month: Current Affairs - May, 2016
Topics: Barack Obama • Hiroshima • Japan • Nuclear disarmament • Nuclear weapons • Persons in News • Places in News • US
Latest E-Books