Anti-Tank Missile Helina Test-fired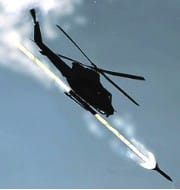 India has test-fired its helicopter-launched version anti tank missile 'Helina' from the Odisha coast near the Integrated Test Range in Chandipur in Balasore district on 8th February. The missile has been developed by DRDO and is one of the most-advanced anti-tank weapons in the world.
About Helina
It is a version of the Nag anti-tank guided missile with a hit range of 7-8 km which can be helicopter-launched.
The missile is guided by an infrared imaging seeker (IIR) operating in the lock-on-before launch mode.
In July 2015, three round trials of Helina were conducted at a firing range in Rajasthan's Jaisalmer. In August 2018, it was successfully test-fired from Rudra helicopter at Pokhran.
About Nag Missiles
It is a third generation "fire-and-forget" anti-tank missile
It was one of the five missile systems which was planned to be developed in the 1980s by the Defence Research and Development Organisation (DRDO) under the Integrated Missile Development Programme (IMDP)
NAMICA (Nag Missile Carriers) are the launch vehicles of the Nag missiles
Comment
The Nag Missile has been a long-awaited missile for the Indian Army. It is yet to enter service. However, with the Helina test-firing things might speed up.
Topics: ALAS • Anti-tank guided missile • Defence Research and Development Organisation • Fire-and-forget • Guided missiles • Guided missiles of India • Ministry of Defence • Missile • Missile defense • Missiles • Nag • Weapons
Latest E-Books