Aldabra Giant Tortoise: Seychelles gifts two giant tortoise to India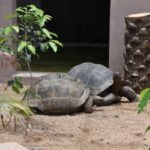 Seychelles has gifted pair of Giant Aldabra tortoise to India as a goodwill gesture. They were brought to India as gift from the President of Seychelles Danny Faure during his five-day visit to India. The pair was handed over to Nehru Zoological Park, Hyderabad after Central Zoo Authority (CZA) in New Delhi gave permission to house them.
The tortoises are both aged about 20 years and weighs around 120 and 150kg. They have been kept under quarantine at Nehru Zoological Park and will continue to be under observation for 30 days, after which they will be released into  enclosure for public view, where presently Galapagos tortoise is also housed.
Gifting or giving Aldabra tortoise on loan to friendly countries is a part of the Seychellois diplomacy. Earlier, in 2010, Seychelles had loaned two giant tortoise to Shanghai Zoo in China, while another pair was presented to Guangzhou Zoo in 2014.
Aldabra Giant Tortoise
Aldabra Giant Tortoise (Aldabrachelys gigantea) is endemic to Aldabra Atoll in Seychelles. It is said to be one of the largest species of tortoises on planet and also one of the world's longest living animals (can live above 200 years). kg Aldabra Atoll has been protected from human influence and is home to around 100,000 giant tortoises, the world's largest population of the animal. The International Union for Conservation of Nature (IUCN) has classified this species of tortoises as Vulnerable in its Red List of Threatened Species.
Month: Current Affairs - June, 2018
Topics: Environment • Giant Aldabra tortoise • India-Seychelles
Advertisement