Air India allows Hajj Pilgrims to carry Zamzam Water on Flight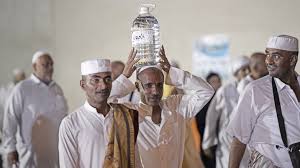 Air India has allowed pilgrims returning from Saudi Arabia after Haj to carry holy water from Zamzam within permissible baggage allowance.
Baggage allowance on all Commercial flights operating out of Saudia Arabia is uniformly 40 kg for everyone. Special 5kg allowance is given to those passengers who may carry Zam Zam (holy water). This special allowance is exclusively for Zam Zam only i.e. it cannot be converted into baggage allowance.
About Zamzam
The well of Zamzam is located in Masjid al-Haram, Mecca (holiest place in Islam) in Kingdom Saudi Arabia and many Haj pilgrims bring the holy water from the well for family and friends.
Every year Millions of pilgrims visit well while performing Hajj or Umrah pilgrimages in order to drink its water.
Background
Earlier on first week of July, sales team of Air India's Jeddah office informed all travel agents stating that till 15 September due to change of aircraft and limitation of seats, Zamzam cans will not be allowed on some flights. Now Air India has clarified that passengers are allowed to carry Zamzam cans within their permissible baggage allowance.
Category: Art & Culture Current Affairs
Topics: Air India • Hajj Pilgrim • Masjid al-Haram • Mecca • Saudia Arabia • Well of Zamzam
Latest E-Books