African Union suspends Sudan, demanding end to Military Rule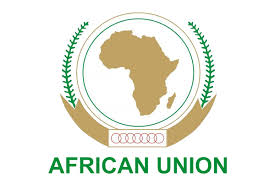 The African Union (AU) suspended Sudan until establishment of a civilian-led transition to democracy and also demanded to resolve an entrenched and bloody crisis. The decision was taken at AU's peace and Security Council meet in Addis Ababa, (Ethiopia's capital).
Key Highlights
Background: Since December 2018 Sudan has been rocked with anger over increasing bread prices and shortages, which then turned into protests against Omar al-Bashir (7th President of Sudan) and culminated in military removing him after a three-decade rule where he became a pariah in eyes of Western world. The military leadership then took control of Sudan after ouster of Omar in April 2019, but it had failed to hand over power to civilians.
Trigger: The call for action to be taken by African Union was mounted after recent military crackdown on protesters campaigning outside Army headquarters in Khartoum (Sudan's Capital) killed dozens of individuals. As per a doctors' group around 40 bodies were pulled from rive Nile, taking the total toll to at least 108.
Thus African Union's Peace and Security Council with immediate effect suspended participation of Sudan in all AU activities until effective establishment of a Civilian-led Transitional Authority, as only way to allow Republic of Sudan to exit from current crisis. This move by AU intensifies global pressure on Sudan's new military leaders to stand down after witnessing worst violence since Bashir's fall.
AU also urged foreign powers to refrain from interference in Sudan's affairs. The decision of AU in Sudan was by endorsed European Union (EU).
About African Union (AU)
It was established in 2002. It is a continental union with headquarter in Addis Ababa, Ethiopia.
Members: 55 countries located on African continent (expect territories possessed by European located in Africa).
The highest decision-making organ of AU is Assembly of African Union, a semi-annual meeting of heads of state and government of its member states.
AU's secretariat, called African Union Commission is based in Addis Ababa.
Official bodies within AU, includes AU Peace and Security Council and the Pan-African Parliament (a representative body).
Some of AU's Objective is- promoting unity and solidarity among African States; coordinating and intensifing cooperation for development; safeguarding sovereignty and territorial integrity of Member States and promoting international cooperation within framework of United Nations (UN).
Month: Current Affairs - June, 2019
Topics: Addis Ababa • African Union • Assembly of African Union • AU Peace and Security Council • AU's secretariat • Civilian-led Transitional Authority • Continental union • European Union • Khartoum • Omar al-Bashir • Pan-African Parliament • Republic of Sudan
Latest E-Books