Abdelilah Bekirane elected as Prime minister of Morocco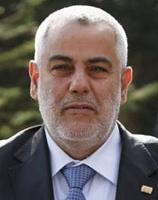 Abdelilah Bekirane was re-appointed as the Prime Minister of Morocco for second term. Benkirane has been serving as Prime Minister since November 2011.
It was officially announced by Mohammed VI, the king of Morocco after Benkirane's Islamic Justice and Development Party (PJD) emerged victorious in recent general election.
Now PM Bekirane will now reach out to other parties to form a coalition government as he does not have absolute majority in lower house.
Background
In recently concluded general election the PJD party had emerged single largest party by winning 125 seats.
While the opposition Authenticity and Modernity Party came second with 102 seats. Morocco's oldest party Istiqlal (Independence) Party emerged third winning 46 seats.
Morocco has multi-party system which makes it impossible for any political party to win an absolute majority in the lower house of 395 members.
Of the total 395 members, 305 are elected in multi-seat constituencies from electoral lists, while of the remaining 90 seats, 60 seats are reserved for a national list of women. Reest 30 seats are set aside for the young candidates below the age of 35.
About Abdelilah Bekirane
Born in 1954 in Rabat, Morocco. He holds graduate degree in Physics. He is former Managing Editor of Al-Islah, Ar-Raya and Attajdid newspapers.
In 2016, he was elected for a fifth term in Parliament and represents Salé constituency since November 1997. Since 2008, he is secretary-general of the Justice and Development Party of Morocco.
Month: Current Affairs - October, 2016
Topics: Abdelilah Bekirane • Elections • International • Morocco • Persons in News
Latest E-Books