8th November: Today's News Headlines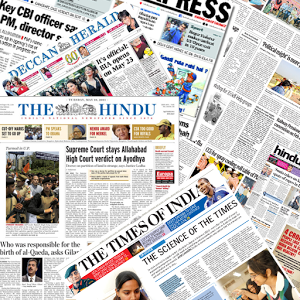 Here are Today's News Headlines for November 8, 2020
India
ISRO launches EOS-01 and nine customer satellites
On November 7, 2020, ISRO launched an Earth Observatory Satellite EOS-01 and nine other customer satellite in its PSLV-C49. The satellites were lifted off from the Satish Dhawan Space Centre in Sriharikota. EOS-01 is will provide data on applications in agriculture, forestry and disaster management support. The customer satellites are from Lithuania (1), Luxembourg (4) and USA (4).
IMD to start issue malaria predictions from next monsoon
On November 7, 2020, the India Meteorological Department (IMD) announced that it will start issuing forecast for malaria outbreaks from next monsoon
S. Hareesh, Malayalam writer wins JCB Prize for Literature Award, 2020
The book titled 'Moustache' written by the Malayalam writer, S. Hareesh won the JCB Prize for Literature. The winner was awarded cash prize of Rs 25 lakhs. The book was translated from the Malayalam by Jayasree Kalathil.
India, US, Japan, Australia conclude phase 1 of Malabar exercise
India, US, Japan and Australia concluded the first phase of the Malabar naval exercise in Bay of Bengal on November 7, 2020.
Economy & Corporate
FASTags made mandatory from 1st January, 2021 for all four wheelers
On November 7, 2020, the Ministry of Road Transport and Highways has issued a notification on FASTAGs making them mandatory for four wheelers from from 1st of January 2021. It applies to old vehicles belonging to M and N category as well. Also to vehicles that were sold before 1st December, 2017.
World
Joe Biden wins US Election, Elected 46th President
On November 7, 2020, Joe Biden won the US Elections, 2020. He defeated Donald Trump winning more than 270 Electoral College vote. He is to become the 46th President of United States. Kamala Harris will become first woman Vice President of the United States.
Islamic Laws relaxed in UAE, Cohabitation of unmarried couples allowed
On November 7, 2020, the United Arab Emirates announced changes to its Islamic laws. According to the new laws, unmarried couples are allowed cohabitate, alcohol restrictions are loosened.
Storm Eta in Guatemala: 150 killed
The death toll in Guatemala reached to around 150 from torrential downpour triggered by storm Eta. Eta had made landfall as a Category Four hurricane with winds of 225 km per hour and torrential rains.
Indian diplomat Vidisha Maitra elected to U.N. Advisory Committee
Indian diplomat Vidisha Maitra was elected to the U.N. Advisory Committee on Administrative and Budgetary Questions (ACABQ). The ACABQ is a subsidiary organ of the United Nations.
Sports
Sports Ministry: Rs 67.32 cr sanctioned to 6 Khelo India State Centre of Excellence
The Sports Ministry has approved six centres as the Khelo India Centre of Excellence (KISCE). They are to be upgraded at consolidated budget estimate of Rs 67.32 crores. The centres are to be established in Assam, Maharashtra, Madhya Pradesh, Meghalaya and Sikkim and Union Territory of Dadra & Nagar Haveli and Daman & Diu.
Month: Current Affairs - November, 2020
Category: Today's News Headlines
Topics: 8 November • Current Affairs Headlines • Current Affairs: News Headlines • Latest News Headlines • News Headlines • Top Headlines
Latest E-Books