6th Heart of Asia conference held in Amritsar, Punjab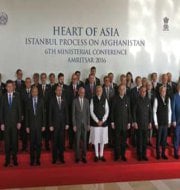 The sixth edition of 'Heart of Asia- Istanbul Process of Aghanistan' conference, an annual regional gathering of Asian and other countries was held in Amritsar, Punjab (India).
It was inaugurated jointly by Prime Minister Narendra Modi and Afghan President Ashraf Ghani. It concluded with adaptation of Amritsar Declaration with its prime focus on terrorism.
Key Facts
The delegates from nearly 40 countries and leading groupings like EU participated in conference. Indian delegation was led by Union Finance Minister Arun Jaitley.
The theme of this edition of the conference was "Addressing Challenges, Achieving Prosperity".
The three big issues of the conference were (i) countering terrorism to create stability in Afghanistan, (ii) Providing Afghanistan connectivity to strengthen economic activities and (iii) the development which is essential for its progress.
Amritsar Declaration
Terrorism: It is the biggest threat to peace and security. It needs to be ended in all forms of terrorism and all support financial and safe havens providing sanctuary to it.
Expressed concern over violence caused in Afghanistan and region by terrorists groups like Al Qaeda, Lashkar-e-Toiba, Daesh (ISIS) and Jaish-e-Mohammed. It also mentions Haqqani Network.
Drug menace: There is urgency to respond to the nexus between drug menace and its financial support for terrorist entities in Afghanistan.
CCIT: Early finalisation of the draft comprehensive convention on international terrorism (CCIT).
Early meeting of experts must be held to discuss a draft regional counter terrorism framework strategy, recently prepared by Afghanistan for its early finalisation.
Connectivity: Reiterated strong support from Heart of Asia countries for use of Afghanistan's location to enhance wider and regional economic cooperation.
Specific initiatives for regional connectivity including Iran-India-Afghanistan trilateral agreement on developing Chabahar were acknowledged
OBOR: Welcomes the MOU on Jointly Building the Silk Road Economic Belt (OBOR) and the 21st Century Maritime Silk Road between China and Afghanistan.
International community and ANDSF: Welcomed agreements between the international community and Afghanistan for continued financial support to the Afghanistan National Defence and Security Forces (ANDSF) until 2020.
About Heart of Asia
HoA conference is a part of the Istanbul Process established 2011 which provides a platform to discuss an agenda of regional cooperation with Afghanistan at its centre.
It was seeks to provide a platform to discuss regional issues, particularly encouraging security, political, and economic cooperation among Afghanistan and its neighbours.
Its three main elements are (i) Political Consultation involving Afghanistan and its near and extended neighbours. (ii) Achieving sustained incremental approach to implementation of Confidence Building Measures (CBMs) identified in the Istanbul Process document. (iii) Seeks to contribute and bring greater coherence to work of various regional processes and organisations, particularly as they relate to Afghanistan.
14 participating countries: Russia, China, India, Pakistan, Afghanistan, Iran, Kazakhstan, Kyrgyz Republic, Tajikistan, Turkmenistan, Saudi Arabia, UAE, Azerbaijan and Turkey.
These countries engage in result-oriented cooperation for a peaceful and stable Afghanistan and, by extension, a secure and prosperous region as a whole.
Supporting countries: Australia, Canada, Denmark, Egypt, Finland, France, Germany, Italy, Iraq, Japan, Norway, Poland, Spain, Sweden, UK and US.
Supporting Organisations: UN, NATO, SAARC, SCO (Shanghai Cooperation Organisation) and OIC (Organisation of Islamic Cooperation).
Related Posts
Month: Current Affairs - December, 2016
Topics: Aghanistan • Amritsar • Amritsar Declaration • Heart of Asia • India • International • International Relations • National • Places in News • Punjab • Terrorism
Latest E-Books