6,117 Kuchipudi dancers set new Guinness World Record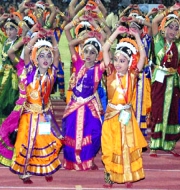 As many as 6,117 Kuchipudi dancers set a new Guinness World Record by performing together in a single event in Vijayawada district of Andhra Pradesh.
The Guinness World Record adjudicated for the 12-minute "Jayamu Jayamu" item as the 'Largest Kuchipudi dance' performance.
Key Facts
Kuchipudi dancers from various age groups (as young as 5 to more than 60 years) from across the world, including from US, UAE, UK, Russia, Hong Kong and Mauritius took part in performance.
The record event was organised by SiliconAndhra, a cultural non-profit organisation in association with the Andhra Pradesh Government at IGMC Stadium.
'Jayamu Jayamu' was choreographed by the legendary Vempati China Satyam and it was chosen for the record attempt 'Mahabrinda Natyam'.
The 'Mahabrinda Natyam' was part of the 5th International Kuchipudi Dance Convention hosted by the Andhra Pradesh Government's Department of Language and Culture.
About Kuchipudi dance
Kuchipudi is one of the ten major Indian classical dances. It originated in a village of Krishna district in modern Indian state of Andhra Pradesh. It derives its name from this village.
It is a dance-drama performance art, with its roots in the ancient Hindu Sanskrit text of Natya Shastra.
Like all major classical dances of India, it was also developed as a religious art linked to traveling bards, temples and spiritual beliefs.
The Kuchipudi style was conceived by Siddhendra Yogi, a talented Vaishnava poet of 17th century.
It begins with an invocation to Lord Ganesha followed by nritta (non-narrative and abstract dancing); shabdam (narrative dancing) and natya.
The dance is accompanied by song which is typically Carnatic music. The singer is accompanied by musical instruments like mridangam, violin, flute and tambura.
Like other classical dances, Kuchipudi also comprises pure dance, mime and histrionics but it is the use of speech that distinguishes Kuchipudi's presentation as dance drama.
Related Posts
Category: Art & Culture Current Affairs
Topics: Andhra Pradesh • Art and Culture • Guinness World Record • Kuchipudi Dance • World Records
Latest E-Books