More than 50 animal species critically endangered in India: Government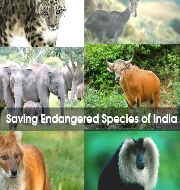 Union Government has announced that out of 96,000 animal species found in India more than 50 animals have been assessed as critically endangered (CR) and 310 as endangered (EN).
It was announced by Union Environment Minister Prakash Javadekar in a written reply to the Rajya Sabha.
Key Facts
The assessment studies were conducted by Zoological Survey of India (ZSI) and it has recorded 96,000 species of animals from India.
International Union for Conservation of Nature (IUCN) has assessed 50 animal species as "critically endangered". It includes 18 species of amphibians, 14 varieties of fish, 13 birds and 10 mammals.
IUCN also has assessed 310 animal species as endangered that includes 69 fish, 38 mammals and 32 amphibians.
Vascular Plants: Botanical Survey of India (BSI) also has notified that out of 19,156 species of vascular plants found in India.
Of them 1,236 species belong to different threatened categories like critically endangered, endangered and vulnerable.
Conservation of threatened species: Government has established 730 Protected Areas, including 535 wildlife sanctuaries, 103 national parks, 26 community reserves and 66 conservation reserves, which primarily cover habitats of threatened megafauna such as rhino, tiger, elephant and others.
9 of the 18 biosphere reserves found in India are part of the World Network of Biosphere Reserves of UNESCO.
Recovery programme: National CAMPA Advisory Council has approved the funding for recovery programme of various endangered species.
These include Gangetic River Dolphin (CR) with budgetary support of Rs 23 crore, Dugong (CR) with a budget of Rs 23.58 crore, Great Indian Bustard (CR) with Rs 108.25 crore, Manipur Brow Antlered deer (CR) with support of Rs 99.95 crore and wild Buffalo (CR) with Rs 2 crore.
Month: Current Affairs - March, 2016
Topics: BSI • Environment • IUCN • Rajya Sabha • world wildlife fund • ZSI
Latest E-Books